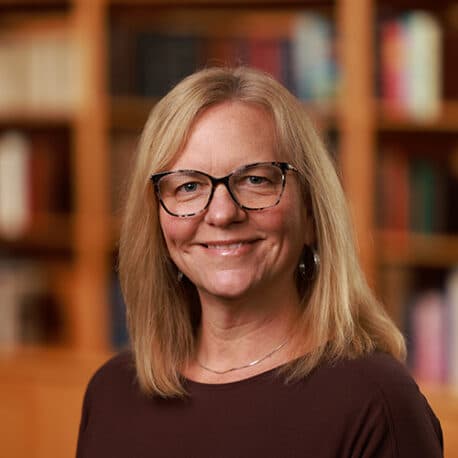 Dr. Lisa Hoogeboom
Professor of Intercultural and Biblical Studies
B.A. (Calvin College, 1989)
M.T.S. (Calvin Theological Seminary, 2007)
D. Min. (Gordon-Conwell Theological Seminary, 2017)
Dr. Hoogeboom is a native of West Michigan, but she and her husband spent several years in Turkey, where her job was to lead college students from North America who came to Turkey for cross-cultural training in a Muslim context.  She continues to use the same "immersion" approach when she teaches intercultural classes at Kuyper College.
Her primary role at Kuyper College is "professor," so first and foremost she aims to challenge, shape, and nurture students and to model what it looks like to be a follower of Jesus. She has loved language and grammar since she was young so helping students learn biblical Greek has been a wonderful, fun experience for her.  Dr. Hoogeboom's hope is to develop an atmosphere of community and a spirit of mutual learning for everyone.
Some of her other college responsibilities include leading the Bible-Theology and Ministry programs, chairing the Diversity, Equity, and Inclusion Committee, and representing Kuyper College on the Kaufman Interfaith Consortium. 
She and her husband Mike, currently live in the Tapestry Square community development project near their church in downtown Grand Rapids, where Mike is a minister.  They have three children (all Kuyper grads), and four delightful granddaughters. For fun, she likes to cook, read, and shop at thrift stores. They also love canoeing in their wood strip canoe, camping, biking, and hiking. 
Get to Know Your Professor
Top 3 favorite books
Favorite vacation place:
The sandy Michigan coastline
Favorite music artists:
Simon and Garfunkel, Rhiannon Giddens, Civil Wars
Favorite scripture:
Luke 10: The Mary and Martha story
Three favorite movies:
The Lord of the Rings

The Bourne Identity

Casablanca
If you could have a superpower what would it be?
To prepare delicious, beautiful feasts for anyone and everyone with a sweep of my hand
The most important thing you want people to know about you:
I believe wholeheartedly that every person is a unique creation of God, made in his image, who adds richness, variety, and value to the world.