Chapel Reflection: Thiara Herrera-Leiva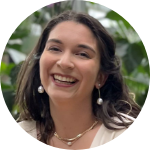 Thiara Herrera-Leiva has never been much of a sports fan.
"But I grew up in Chile, where soccer in particular is a big deal," Herrera-Leiva told attendees of the twice-weekly service held for the Kuyper Community in the Vos Chapel. "Not just playing it but watching it too."
That is especially true when the Chilean team plays, Herrera-Leiva added. 
On game days, she said, the sounds of cheers and boos could be heard throughout her neighborhood.
"For us Chileans, when the Chilean team wins, we all win," she said with a smile.
Being part of the family of God can be a similar experience, according to Herrera-Leiva.
"When the stone was rolled away that first Easter morning, and it was discovered that Jesus had risen, cheers erupted," Herrera-Leiva said. 
As Christians, we all run the race of faith together, sharing in each other's successes and sufferings, she said.
Indeed, much like watching our favorite sports team win a game, Christians get to celebrate the shared salvation Jesus secured for all of us, Herrera-Leiva emphasized.
"When Jesus rose from the dead, we all got to share in His victory over sin and death. When He won, we all won," Herrera-Leiva said.
[tbx_image id="227329,227329″]