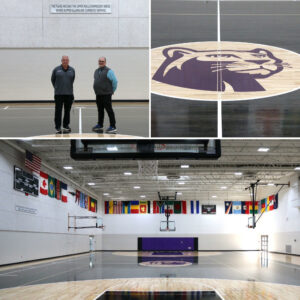 Kuyper College students will have a renovated gymnasium to play in for the 2023-24 school year.
The 30-year-old venue got a much-needed facelift this spring, and the results are terrific.
Ray Thomas, director of campus operations, was part of a small committee that planned the improvements, including a new design for the gym floor, and he couldn't be happier with the results.
"We wanted to upgrade the floor to represent what Kuyper College is all about," he said. "And we wanted something that would stand out and look a little different than other gym floors in the area."
Mission accomplished.
The new floor features black paint in the keys and along the sidelines and baseline. The area inside the three-point line is the original wood, a light oak or maple, Thomas said, and then the midcourt space is done in a black stain to create a washed look and a subtle contrast with the black paint. In the center of it all is a new Kuyper Cougar in purple, set against the light color of the original wood floor.
Thomas said recruits who have seen the new space have been impressed and are eager to play on the floor.
The work was done by locally based Floor Care Concepts in a span of only five weeks. Thomas said Kuyper also plans to expand the College's fitness room with more cardio machines in the near future.