Ken Capisciolto Announces Retirement from Kuyper
Kuyper vice president for advancement Ken Capisciolto has announced his retirement, effective December 29, and a search has begun for his replacement (though now with the title of chief advancement officer).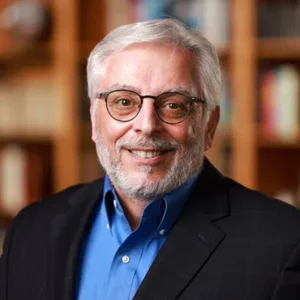 The transition brings to a close an almost two-decade career for Capisciolto at the College and almost three decades of work in Christian education. He smiles as he considers his career path.
"It was God working, plain and simple," he said. "To have had a career in Christian education is not something I planned, but I have not regretted a day of it ever. I have been challenged on certain days, but I've never regretted God's calling into Christian education in its various forms."
Kuyper President Patricia Harris has worked closely with Capisciolto, first as provost and for the past six years as president. 
In announcing his impending retirement to the Kuyper community, she noted his genuine desire to live faithfully for Christ.
"If you've had the opportunity to hear Ken pray, you know he begins with the words 'Father, thank you for another day to serve,'" she wrote. "I am deeply grateful for the years of dedicated service that Ken gave here, for his thoughtful leadership, his care for this community and his commitment to the mission of Kuyper College."
For his part, Capisciolto said representing Kuyper for the past two decades has been a privilege and a pleasure. And he points to wonderful colleagues he has had over the years in not only the advancement division but also among the faculty and the staff as a highlight of his work.
"No one does this work alone," he said. "I have worked with amazing colleagues and being able to provide resources to help our faculty and our staff—and to help create an environment in which our students can flourish—has been incredibly gratifying."
Connections to students have been especially meaningful, he added.
"We see transformation occur here," he said. "Seeing the growth in our students from the time they come in as freshmen until the time they leave as seniors is an absolutely wonderful part of my job."
The other aspect of his work that he has enjoyed, he said, is connecting with donors.
"To be in my role is to have seen Christian stewardship at its finest," he said. "I have worked with so many people who understand that they are stewards of that with which they have been entrusted. It's been an honor to be able to work with them."
What has guided his work, he added, is trusting the Spirit.
"Fund development truly is a Spirit-led process," he said. Do I think the mission and ministry of Kuyper is worth giving to and supporting, yes, I do. But the result is up to the Spirit, right. It's up to the Lord."
Capisciolto said that in his work at Kuyper there have been plenty of opportunities for God to surprise him, and he expects the same might be true as he ponders what life in retirement might look like.
He plans to spend some time with his wife Kay wandering the national parks and national forests he has grown to love over the years. But he also thinks there might be other opportunities beyond travel and hiking that may come his way.
"Whatever else He has for me, I'll be open to it," he said simply.