Chapel Reflection: Sarah Roelofs
Sarah Roelofs is an ordained pastor, a chaplain and a leader in the Christian Reformed Church. She is highly educated and has years of experience in ministry. But that is not always what others see when they look at her.
"In my first week as the Director of Chaplaincy and Care for the CRC, a colleague told me the only reason I got my job was because I am an Asian woman," Roelofs told attendees of the twice-weekly service held for the Kuyper Community in the Vos Chapel.
Roelofs has had other similar experiences, both within and outside of the Church.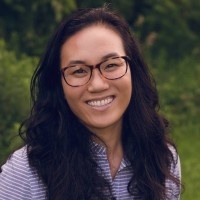 "Especially since the COVID-19 pandemic and the rise of anti-Asian racism, it has been hard being Asian and a woman," Roelofs said.
According to Roelofs, honesty is the key to moving the Church and the world forward to a place of equality and justice. 
"We need to be honest about systems that reinforce patriarchy and institutionalize racism," she emphasized.
Part of this, for Roelofs, is sharing her own lived experiences. 
In order to do this more fully, Roelofs is taking on a new role in her career. "I will be working for the Fetzer Institute, which helps create a more loving world by helping people build strong spiritual foundations for their lives," she said.
Helping others grow in spirituality is what Roelofs feels God has created her to do.
"I was raised in a culture where women weren't leaders in the church, but, when I got to Calvin Seminary, God changed my heart, and I fell in love with chaplaincy. Ministry can be hard, but it's part of my DNA. It's what I'm called to do," she said.