Council on Social Work Education Annual Meeting Benefits Professors, Students
For Kuyper social work professors Kelli Hoffman and Jennifer Colin, participating in the recent 69th Annual Program Meeting of the Council on Social Work Education was a chance to stay current in the field of social work theory, practice and research and to network with professors at other Bachelor of Social Work programs.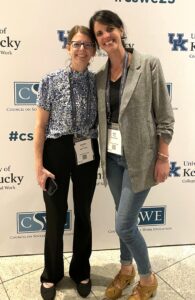 For Hoffman the event also was an opportunity to present a little of her research on the trauma-informed classroom, while Colin was part of the prestigious CSWE Leadership Institute. 
Both professors said attending the event, which drew 2,900 attendees, the majority of whom are social work educators from all over the U.S., will ultimately benefit Kuyper social work students.
"We want to keep our program relevant and exciting for students," said Hoffman. "Attending this conference helps us bring fresh ideas back to the classroom. I also spent a lot of time gathering resources on master's programs around the country, so I can help our students understand the vast number of options out there, including many of the online options which open doors for students who want to stay local."
Colin agreed.
"I always leave the APM with ideas I can directly implement into the classroom, as well as information that informs how and what we teach," she said. "Conference attendance directly benefits Kuyper students through newly acquired knowledge and skills and a renewed excitement for the field of social work."
The Leadership Institute that Colin was part of provides targeted education, training and mentoring to social work leaders, and she attended because she has been selected to participate in CSWE's Program Director Academy, a leadership certificate program for current baccalaureate and master's program directors who have been in their positions less than three years.
Meanwhile, Hoffman not only presented to her peers but also attended the day-long Field Education Institute, which provided specific resources and support around field education (which is the internship component of the Kuyper social work program).
She said her presentation on the trauma-informed classroom went well and many attendees "took lots of pictures of my presentation for them to be able to incorporate the practical ideas provided into their classroom."
Her topic grew out of her previous clinical experience working through a trauma-informed lens and the growing literature around the rise of trauma and mental health concerns in college students. 
"I started to dive into research on how trauma impacts college students' engagement and safety in the classroom, and I developed practical ways for educators to make their classrooms trauma informed based on my clinical knowledge and experience," she said. "There is so much literature to show how trauma impacts brain function and ability to engage in learning, and if we as educators are not recognizing that, we could be unintentionally doing things in our instruction and classroom that are activating their trauma response." 
Both Hoffman and Colin said one of the highlights of the conference was keynote speaker Dr. Bernice King, daughter of Dr. Martin Luther King Jr., who spoke about her father's work and what she is doing to continue his legacy of anti-racism. 
"She incorporated her faith perspective into her talk, which was so refreshing to hear," Hoffman said.
Colin said the same.
"It was an honor to hear Dr. Bernice King speak," she said. "I will always remember that. It was a great conference, and I appreciated being there with Kelli this year because it provided opportunity for end-of-the-day processing and debriefing as well as collaboration."