Diversity & Leadership Panel
As part of his Introduction to Business & Leadership class, Kuyper professor Marc Andreas is planning a panel discussion on diversity and leadership and is inviting the broader Kuyper community, including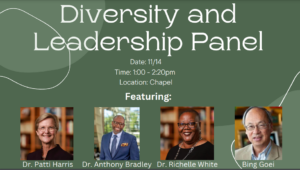 alumni, parents and other stakeholders, to attend.
The event will be held on Tuesday, November 14 from 1-2:20 pm in the Kuyper Chapel.
Panelists will include Kuyper professors Dr. Richelle White and Dr. Anthony Bradley as well as Kuyper president Dr. Patti Harris and former Kuyper board member Bing Goei, a local entrepreneur and longtime diversity advocate in West Michigan.
All four will address what Andreas called "the challenging and important topic of leading organizations who desire to grow in diversity."
The topic, he added, includes not just race but also many other types of diversity.
Approximately 50 Kuyper students in three sections of the Introduction to Business & Leadership class will attend, including 18 students from a Potter's House High School dual enrollment course. 
Andreas said diversity is an important topic at Kuyper but also something Kuyper students will have to grapple with during their time as students and after graduation as they enter the workforce. He also was keen to put together a relevant event that would gather together all three sections of his course.
"This topic is a good one," he said. And we have some great experts at Kuyper, and in our broader Kuyper community, on the topic of diversity, people I want to make sure our students get a chance to learn from."
Andreas noted that White teaches Human Diversity at Kuyper and has a wealth of experience as an African American pastor while Bradley has great experience as an author and has researched the criminal justice system extensively from a Christian perspective. President Harris, he added, is one of the few female Bible College presidents in the country, and Goei is a recognized leader and expert on diversity who served former Michigan Governor Rick Snyder as his director of the Office of New Americans.
"The topic of leadership and diversity is an important lesson in my class," Andreas said. "God calls us as leaders in our communities to encourage and support the incredible variety of diversity of people that he has created."