Embrace the Future: Kuyper College Gears Up for an Epic New Year and Large First-Year Class!
Kuyper College will welcome a significantly bigger first-year class than in recent years to campus next week when it hosts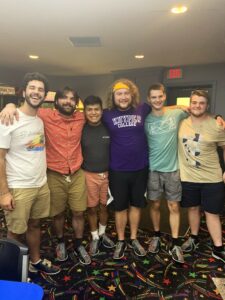 orientation from August 29-31.
Director of Admission Kris Haymon said the College anticipates welcoming 65 first-year students representing five countries—Andora, India, Kenya, Spain, and the U.S.—and seven states—Alabama, California, Indiana, Michigan, Oklahoma, Tennessee, and Pennsylvania.
"There is a definite feeling that enrollment is on an upward trajectory and that the fall 2023 class is indicative of a trend that will continue to bring in larger classes to Kuyper," Haymon said.
He added that in the upcoming academic year, Kuyper will see the admissions team looking to increase both the digital and physical footprint of the College to larger portions of Michigan and the Midwest through both increased travel and a larger marketing presence in key areas.
The return of varsity athletics to Kuyper was definitely a draw for student-athletes, Haymon added, with admissions stats showing two-thirds of the first-year students currently plan on playing a sport at Kuyper.
"This year is the beginning of an exciting time to be at Kuyper," Haymon said. "We have so much to offer as a campus and community and are looking to bring more people to campus and introduce them to the Kuyper difference."
Orientation begins at 9 am on Tuesday, August 29, 2023, with move-in, followed by a 1 pm dedication service and a 2 pm all-student welcome.
It continues on Wednesday, August 30 with worship, community conversations, orientation to Kuyper's Work College emphasis (it is the only Work College in Michigan), and sessions on academic and spiritual development.
The three days wrap up on Thursday, August 30 with worship, team challenges, discussions, and a variety of activities.
After Labor Day weekend, classes will begin on Tuesday, September 5.