Embracing Change and Hope: A Kuyper Senior's Journey of Spiritual Growth
Kuyper senior Thiara Herrera-Leiva will enter her final year as a ministry leadership student fresh off a summer fellowship hosted by the Miller Summer Youth Institute at Pittsburgh Theological Seminary called "Listening to the Land: Cultivating Hope through Spiritual Practice and Theological Reflection in a Time of Crisis."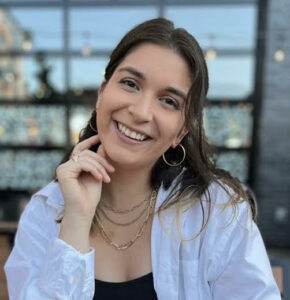 The title, she said, was intriguing to her and compelled her to apply for the program.
Still, when she was accepted, she admitted she had a moment of doubt.
"I had already committed to working for the Kuyper advancement office for the summer," she said. "So, I was hesitant about Pittsburgh. But everyone at Kuyper was so excited for me and basically told me that I had to go."
Go she did, and looking back on the experience, she said she's glad she listened to the many who encouraged her to pursue the opportunity.
"I can already see how things I learned are influencing the way I approach my job on campus," she said. "I see the need for space for quiet and rest, so I plan on being very intentional in fostering those spaces for myself and for others in the (Kuyper) community."
Established in 1997, the Rev. Dr. Roy F. Miller and Mrs. Florence Lantz Miller Summer Youth Institute at Pittsburgh Theological Seminary helps its attendees grapple with who God is calling them to be and what is He calling them to do.
It rests these vocational questions on a Reformed tradition's foundational conviction that all truth is God's truth.
Thus, the 2023 Miller Summer Youth Institute's six-week living-learning fellowship program saw Herrera-Leiva and her fellowship cohort work with experts from congregations, non-profits, and from across higher education on the program theme, including experiential learning activities at Garfield Community Farm, the program's community partner for the summer.
Mondays and Tuesdays mornings were dedicated to discussion, practical activities for group and personal reflection and also journaling, based on the topics or readings that were assigned. Wednesdays saw the cohort explore Pittsburgh and Western Pennsylvania, while Thursdays were for the farm, and Fridays, Saturdays, and Sundays were saved for recharging and for worship.
"We explored different themes as the weeks went by," Thiara said. "We talked a lot about justice from a holistic perspective, including justice in the way we treat creation, others and ourselves. And I'm super grateful for the opportunity to network with writers, professors, community organizers, and many other people that this opportunity gave. I still am making connections and email introductions to people that are so sweet and open to talk about seminary, theology, and life with me."
Thiara is currently in the process of applying to graduate schools to pursue a Master of Divinity degree.
But her Pittsburgh experience has given her an increased sense of calm as she ponders her future.
"We will see where it goes," she said with a smile. "My priority now is to be present and enjoy each second of my senior year of undergrad."