Embracing New Horizons: Amanda Krebs Joins Kuyper College as Admissions Counselor, Bringing a Passion for Education and Community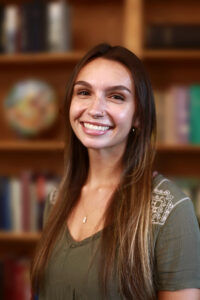 Amanda Krebs is a new admissions counselor for Kuyper College.
A native of Grayslake, Ill. (a northern suburb of Chicago), Krebs graduated from Grayslake North High School in 2018 and then journeyed east to Michigan to attend Western Michigan University in Kalamazoo, graduating in 2022.
She studied K-8 education with a middle school math endorsement and chose that major because she loves creating personal connections with people. But, she added, while pursuing the degree, she found she had a passion for higher education, and she began to dream about a career not in K-8 but rather one on a college campus.
When she saw a job opening at Kuyper, she was intrigued. "I have always loved a smaller community feel," she said. "I have been a dancer since I was three and danced with the same small group of people who became like my family. More importantly, I appreciate the mission of Kuyper and the holistic emphasis for the students."
Amanda began in August and said she is eager to get to know people on the Kuyper campus and beyond. In her free time, she loves being active. "Due to my background, I have a strong passion and appreciation for health and wellness," she said. "So, I love to be outdoors and exercise. This past year I have been learning how to both golf and ski. I also love reading, fiction or nonfiction, and trying new recipes. And I am excited to begin my journey at Kuyper."