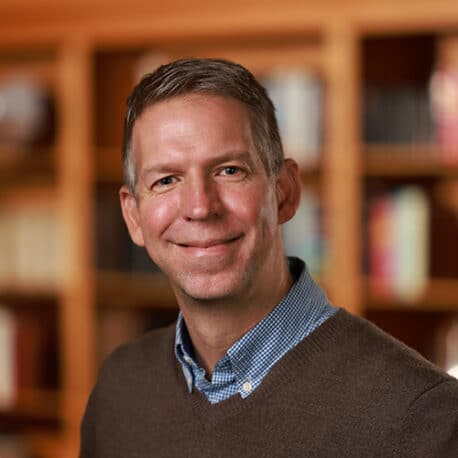 Andrew Zwart
Assistant Professor of Interdisciplinary Studies, Interdisciplinary Studies Program Director
B.A. (Calvin College, 1989)
M.Ed. (Calvin College, 2013)
Andrew Zwart earned his B.A. in Education with an emphasis in Literature, English, and History from Calvin College in 1998. After graduating, he spent two years playing music in a local band that released two albums, one of which was nominated for a Jammie award. Newly married in 2000, he and his wife moved to Boston, and he began teaching for the Boston Public Schools system while his wife attended school. After four years, they moved back to Grand Rapids; his wife started a teaching job at Calvin, and Andrew began working for Kuyper's Student Success Program.
Missing the classroom, Andrew decided to return to Calvin to earn an M.A, in Education while also taking Linguistics at M.S.U. During this time, he began to focus his study on the intersection between rhetoric, communications, linguistics, history, and literature–all subjects he currently teaches. The educational approach he experienced in his Masters's program led him to become especially interested in an interdisciplinary approach to education, which led him to oversee Kuyper's Interdisciplinary Studies Program.
Besides teaching at Kuyper, Andrew spends every summer teaching a writing course to inmates at Handlon Correctional Facility. His work here exemplifies his belief that education has the power to change lives. Wherever and whatever he's teaching, Andrew aims to challenge the assumptions students hold about the culture we live in. He aims to model how Christians can be engaged with the culture we live in while always bringing a biblical worldview to help us discern how God calls us to witness to this world. His wide range of interests–from language literature, and art to history, philosophy, and economics–allows him to bring a broad perspective to issues students are grappling with while also helping them to see how everything belongs to God.
Get to Know Your Professor
Top 3 favorite books
Favorite vacation place:
Northern Ontario
Favorite music artists:
The Clash, The Hold Steady, Radiohead, The Tragically Hip, Bob Dylan, Bjork
Favorite scripture:
Philippians 4:6
Three favorite movies:
The Tree of Life
Of Gods and Men
Pee-Wee's Big Adventure
If you could have a superpower what would it be?
The ability to stop time
The most important thing you want people to know about you:
The best part of my week is taking communion.