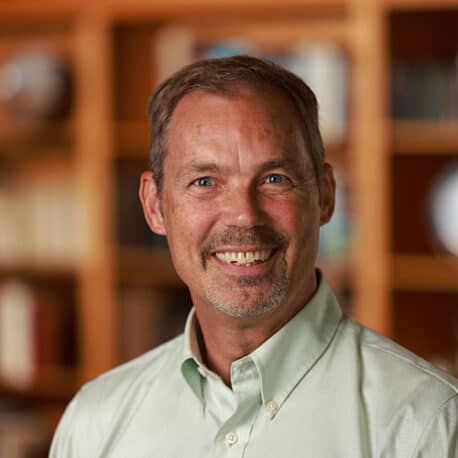 Dr. Dan Kroeze
Professor of Biblical Studies
B.A. (Calvin College, 1982)
M.Div. (Fuller Theological Seminary, 1986)
M.A. (University of Wisconsin, 1992)
Ph.D. (University of Wisconsin, 2003)
Dr. Kroeze loves teaching at Kuyper College because he is passionate about equipping students to dig deeper into God's Word, to learn what it means to be a disciple of Jesus Christ, and to encourage them to engage God's world with the good news of the gospel. He believes that the church is the true hope of the world. He loves the church, loves the Bible, and loves to teach and preach in a way that shows how God's redemptive story found in scripture engages our world today. Dr. Kroeze also currently serves as the Preaching Pastor at Westend CRC in Grand Rapids.
Dr. Kroeze is fascinated with the literary artistry and design of the Bible and committed to helping people understand how the whole story works together and leads us to Jesus.
He especially enjoys leading biblical study tours to Israel with Kuyper students and adults. This experience teaches everyone that their faith is rooted in events that occurred in real places.
Dr. Kroeze grew up in West Michigan and loves everything about living in Michigan except for the winter. He is married to Nancy, with whom he shares four children – two married sons, Nathan and Holly, Michael and Laura; a son, Ben, and daughter, Hanna. They have two granddaughters and two grandsons.
He enjoys hiking, running, traveling, and all sports, but especially New York Yankee baseball. Dr. Kroeze still attempts to play "old man" basketball when his body allows.  He enjoys developing whole disciples of Jesus Christ, rich community, and being active with the family.
Get to Know Your Professor
Top 3 favorite books
Favorite vacation place:
Long Beach Island
Favorite music artists:
Zac Brown Band, Boston, Chicago, Crowder
Favorite scripture:
Psalm 27
Three favorite movies:
Shawshank Redemption
Field of Dreams
Schindler's List
If you could have a superpower what would it be?
Time Travel
The most important thing you want people to know about you:
I am a disciple of Jesus Christ.