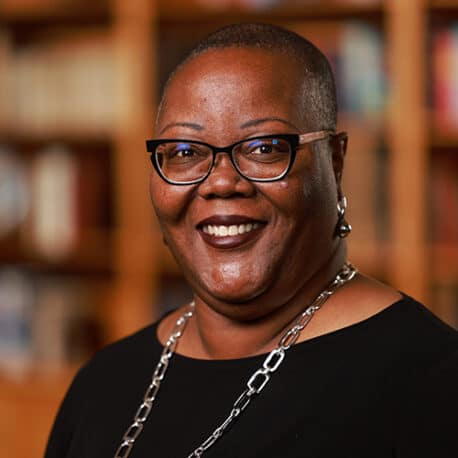 Dr. Richelle White
Professor of Youth Ministry, Director of Field Practicum and Internships
B.S. (Millersville University of Pennsylvania, 1991)
M.S. (Coppin State College, 1995)
M.Div. (Wesley Theological Seminary, 2001)
Ordained (Zion Baptist Church, King & Queen, Virginia, 2002)
M.A.C.E. (Union Theological Seminary - PSCE, 2003)
Ordained (African Methodist Episcopal Church, 2009)
Ph.D. (Union Presbyterian Seminary - PSCE, 2011)
A lifelong learner and youth advocate, Rev. Richelle B. White, Ph.D. is a preacher, teacher, writer, consultant, and life coach. In addition to serving at Kuyper College, she is an ordained minister. For more than 30 years, Dr. White has served children, youth, and young adults as an elementary school teacher, after-school program coordinator, teen counselor, summer camp director, mentor, curriculum writer, youth program director, and youth pastor. In addition, Richelle has served as a Senior Pastor and Director of Christian Education. Her passion for God's word and God's people inspire her to use her gifts to faithfully serve others.
Richelle is the founder and author of Daughters of Imani—Christian Rites of Passage for African American Young Women, the nationally renowned planning guide and young women's Bible study. In addition, she is passionate about Black music and has written Repertory with Roots—Black Youth, Black History, Black Culture, Black Music and the Bible—A Christian education curriculum resource that incorporates these elements into teaching and learning opportunities to help young people grow as Christ's disciples. Richelle is the founder and CEO of Cutting Edge Conversations, LLC, a coaching, mentoring, and consulting practice "committed to helping, supporting, equipping, and empowering others on their journey toward human flourishing."
All of these roles contribute to Richelle's life mission—"To assist God's people in discovering their true identity and purpose by introducing resources that lead to continual growth."
Get to Know Your Professor
Top 3 Favorite Books:
Favorite vacation place:
Atlanta, GA
Favorite music artists:
India.Arie, Luther Vandross, Richard Smallwood, Donnie McClurkin, Kirk Franklin, Yolanda Adams, Maverick City Music
Favorite scripture:
Ephesians 2:10
Three favorite movies:
Do the Right Thing

The Great Debaters

Harlem Nights
If you could have a superpower what would it be?
Time Travel
The most important thing you want people to know about you:
I am my own biggest cheerleader, I don't depend on the applause of others.