GRCC & Kuyper College partner to create seamless pathway for students seeking business leadership degree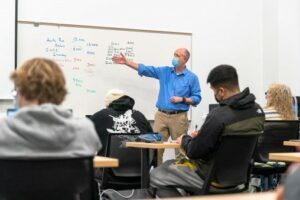 Grand Rapids Community College students will have a seamless path to Kuyper College's bachelor's degree programs through a new agreement between the two institutions.
The transfer partnership agreement ensures that GRCC students can transfer to Kuyper with minimal credit loss or duplicate coursework.
"GRCC is for many students the first step on their educational journey," said Dr. Bill Pink, GRCC president. "It is rewarding to see students build on that solid academic foundation with additional degrees. Agreements with four-year institutions such as Kuyper College create outstanding opportunities for students and reflect the value our community places on education and collaboration." 
GRCC has transfer program agreements with most higher education institutions in West Michigan. This agreement with Kuyper, the first between the two colleges, notes that GRCC students who are specifically seeking a bachelor's degree in business leadership will be able to take their classes at Kuyper's urban campus at the Center for Community Transformation, 1530 Madison Ave. SE.
"This new partnership agreement allows any GRCC student pursuing a bachelor's degree at Kuyper, Michigan's only federally recognized Work College, to transfer into low-cost bachelor's degree programs with guaranteed jobs," said Dr. Patricia Harris, Kuyper College president. "Transfer scholarships and grants are available, allowing students the opportunity to graduate with little or no debt."
The articulation agreement idea got its start when professor Felix Pereiro, head of GRCC's Business Department, and Marc Andreas, associate professor of Business Leadership and Business Leadership Program Director for Kuyper College, collaborated in discussions about how to help business students and our community.
"GRCC offers our students a high-quality education at an affordable price. We are at a pivotal time in our society where the cost of obtaining a college degree is beyond the reach of many, especially those in disenfranchised populations," Pereiro said. 
"Kuyper's campus at the Center for Community Transformation is a breakthrough moment for the community we serve. Students who earn their Associate of Business degree at GRCC now have a path to earn a baccalaureate degree and employment opportunities that are aligned with their coursework. The location of the building was critical. It is strategically located in a neighborhood to help those most in need."
Pereiro said discussions with Andreas focused on how they could help students attain academic, career, and life goals.
"Many students begin their journey to obtain their goals at GRCC and then move onto one of our great transfer college and university partners. We challenged each other to develop programs that are truly exciting and innovative to offer our students," Pereiro said.