Karla Velis-Brito: Work as Worship
When Karla Velis-Brito was just 10 years old, she accompanied her family on a journey from her native El Salvador to California. While there, they visited a 99-cent store.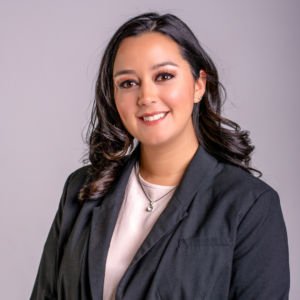 She laughed as she recalled being entranced by the wide variety and affordable prices of the items. 
"I had never seen anything like it," she said as she sat in her office on the west side of Grand Rapids recently.
Immediately, Karla began thinking of ways she could replicate such a store in El Salvador.
Though she was just a young girl, she asked her parents to borrow $30, a significant sum and what she now calls the first loan to fund her first small business. With that money, there in California, she bought as many items as she could fit in her suitcase to resell at school and in her neighborhood. 
Within a week of returning home, she sold all her inventory and made a profit of $70, she said with another laugh.
This first foray into entrepreneurship had her hooked.
"I fell in love with meeting others' needs through bringing them a service or product. One big misconception many people have about the world of business is that selling things is scary. But, when you realize that it can be a way of solving problems, it doesn't have to be," she said, smiling.
Today, Karla Velis-Brito is the new executive director of SpringGR in Grand Rapids, founded by entrepreneurs, for entrepreneurs, a hub to help people who have great ideas that they want to grow into successful businesses. 
Though Karla was raised in a Christian home, she didn't always see a connection between the worlds of faith and business. Her parents were pastors and teachers, and the idea of bringing faith to a business or operating a business as a ministry wasn't on their radar or hers.
But her perspective began to change when she came to Kuyper College in the fall of 2012. 
"It was at Kuyper where my eyes were opened to the concept that my faith could be part of the way I operated a business," she recalled. "Before, I didn't think doing that could be my calling. Ideas such as stewardship and debt started to take on a whole new meaning at Kuyper."
As she got deeper and deeper into Kuyper's business leadership major, Karla got more and more excited about the possibilities that were beginning to unfold before her, and she made discoveries that shaped the course of her future career.
"I especially fell in love with the marketing piece of business in my classes. I've always been a storyteller at heart, but it wasn't until I got to Kuyper that I realized I could use that gift to serve God in the world of business," she said.
Through experiences like these, she began to understand that God's calls are not confined to small sectors of society.
Indeed, at Kuyper a holistic view of work infused her classes, chapel services, on campus jobs and more. She even noticed it in the College's motto on its seal: Ora et Labora, Latin for pray and work. The idea of work as an act of worship or work as a gift became a new way for her to orient her life.
"It opened up a whole new world for me," she recalled with a wide smile.
What she was discovering at Kuyper was that people can be called to business just like they can be called to education, law and medicine. Business, Kuyper taught her, could be about both making a profit and making a difference.
One of the most memorable ways she was taught this was through the idea of the triple bottom line. This, she explained, is frequently communicated in business leadership classes and means Christians in business have social and environmental responsibilities as well as financial ones.
"Business leadership students learn they actually have three bottom lines to be concerned with: people, planet and profit," she said.
When we see our business endeavors as more than just a way to make money, she emphasized, they become more meaningful. 
 "Our jobs, our businesses take on more meaning and have more impact when we see them as ways of glorifying God," she said.
Velis-Brito said the work as executive director of SpringGR in Grand Rapids is one way for her to live out her faith daily and to ensure that the next generation of entrepreneurs has what it needs to be successful.
"Entrepreneurs need a connection to intellectual, social and financial capital to thrive," she said. "There was a segment of entrepreneurs not being served in our community, many of whom are minorities and women. As an immigrant, I understand the struggles of starting from scratch and not knowing or understanding the system."
SpringGR was created to serve these individuals, just as Karla's parents helped launch her entrepreneurial career those many years ago.
"The road of an entrepreneur can be lonely, and many of us struggle with uncertainty and insecurity," she noted. "At SpringGR, we provide community, coaching and connections to help entrepreneurs on their journey."
Karla serves her alma mater as an adjunct professor and is founder and owner at VelisK LLC where she offers bilingual creative services for content creation as well as photography and videography services. She also teaches personal finance classes in Spanish and works to assist recent immigrants.
In all that she does, she works hard to ensure the quality of her craft because it is a way for her to live out her calling. 
"I am definitely called to create, and I think we all are," she said. "We participate in God's creation by creating as well, and one way we do that is by building businesses. We can then bring these talents to God as an act of worship."
Her time at Kuyper College gave Karla a new sense of what it means to impact the world for Christ and His kingdom. 
"I've realized there is a difference between a business owner who is a Christian and a Christian business owner," Karla said. 
The distinction, for her, is whether our workplace decisions reflect our faith and worldview. 
She added: "We need to include God in all the pieces of our jobs and our lives. It's all His, and we're His instruments."