Kuyper Business Leadership Global Microfinance Loans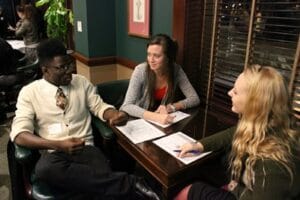 For the second time, Kuyper College Business Leadership students in their Entrepreneurship class used $1000 from an anonymous donor to help 10 entrepreneurs around the world through microfinance loans.
During the Fall 2014 semester, when the first donation was given, students in that semester's class, working with Kiva, a non-profit organization and one of the largest microfinance organizations in the world divided the original $1000 among seven entrepreneurs. After the original loans had been paid off, this semester's Entrepreneurship class also worked in groups, chose 10 additional entrepreneurs, with each one receiving $100 loans through Kiva.
Marc Andreas, Professor of Business Leadership and Business Leadership Program Director, said that he got the idea for this program after hearing the founder of Kiva, Jessica Jackley, speak at a Christian leadership conference in 2010. As a result, students in the Entrepreneurship class watch a TED talk video in which Jackley explains the critical importance of offering loans to people around the world who do not have access to traditional banks. As the students choose entrepreneur discuss those choices to the rest of the class, the students are learning the importance of access to capital to grow a business.
"Ultimately, this project allows the students to see how they can use their resources to fuel good entrepreneurship that would otherwise be impossible," said Andreas. "It provides an opportunity for the students to begin applying what they have learned in class to impact the world for Christ."