Kuyper College Experience Day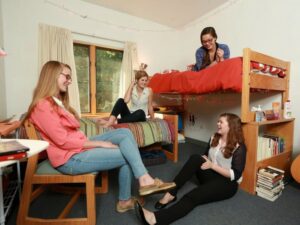 For Kuyper admissions counselor KZ Yang, the best way to experience the College is to spend some time on campus and see what it means to learn, work and serve at Kuyper.
A Kuyper Experience Day provides that opportunity.
An immersive experience tailored to the needs of each guest, an Experience Day sees prospective students worship during chapel, meet professors, tour campus with a current student, attend a class and even explore varsity athletic opportunities.
Said Yang: "I love being able to host future students during Kuyper Experience Days. I absolutely loved being a student at Kuyper and am so thankful that I get to share bits and pieces of that during these visits."
A recent Experience Day began with refreshments and time for guests to mingle with faculty and staff in the West Dining Hall. The Admissions Department welcomed attendees and gave them a broad overview of the College, including Kuyper's distinction as the first institution of higher learning in Michigan, and only the 10th in the country, to be recognized by the U.S Department of Education as a Work College. That includes the KuyperWorks program, which integrates classroom learning with the learning students experience within their workplace, either on or off-campus.
"At Kuyper, we focus on bringing God's grace into today's culture. Impacting the world for Christ extends beyond a church or overseas mission field, and we equip you to serve well wherever God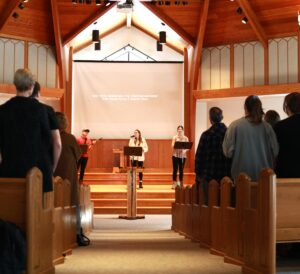 calls you," said Ann Essenburg, assistant director of admissions.
Yang added: "As a recent graduate, I can say that the faculty and staff care about you holistically. They're there to walk alongside you during your college journey and find out what God is calling you to. I found that support beneficial."
A service in the Vos Chapel followed, allowing guests to hear God's word taught, to sing of His faithfulness and to pray alongside the Kuyper community. This gathering was particularly meaningful, as it recognized the recent shootings at Michigan State University. 
Dr. Patricia Harris, President of Kuyper College, addressed the attendees, saying, "The Kuyper community is here as a caring community. We can talk to each other and pray for each other. This tragedy touched all of us so closely, and we need each other now more than ever."
Prospective students were then able to customize their Kuyper experience further by choosing to attend either a Sociology or Non-Profit Management class, giving them a peek into their potential future as a Kuyper student. 
A tour of the Kuyper campus, led by a student tour guide, and lunch in the Walters Dining Hall, were next on the day's agenda. This allowed guests to eat a delicious meal and experience the hospitality of current students, faculty and staff.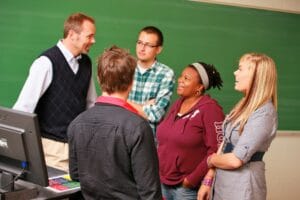 After eating their fill, prospective students dove deeper into their academic programs of interest by meeting with faculty members who work in those areas. Those who were interested in playing sports at Kuyper were also able to meet with members of the Athletic Department. 
Reflecting on the day's events, Essenburg said, "One of my favorite parts of my work here at Kuyper is welcoming guests to campus. I love the opportunity to spend the day with them, getting to know them and connecting the dots between what Kuyper offers and where they feel God is calling them. A campus visit is such a vital part of their college search and I truly enjoy putting together a personalized plan for each guest to make the most of their time on campus."
The next Experience Day is Friday, March 24. Students can sign up online. The next day for individual campus visits is Thursday, March 16. Online sign-up is available for that option too.