Kuyper College Gives Back Through First Responders' Meals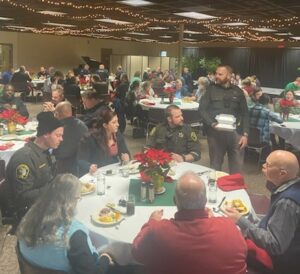 For staff members Ray Thomas and Jeff Bettig, a passion for serving first responders has led to a campus-wide tradition that this past Christmas saw 75 police officers, fire fighters, emergency medical technicians and more enjoy a beautiful buffet meal with the Kuyper community.
Including these important members of the community in both Thanksgiving and Christmas buffets has become something of a tradition for the College. "A lot of first responders have to work on the holidays, so we want to give them a day where they can relax and have a good meal," said Thomas, director of campus operations. 
Bettig, Kuyper's food service director and chef, began the practice of inviting first responders to his Christmas and Thanksgiving buffets several years ago, and when Thomas came to Kuyper, he partnered with Bettig to expand the program. "We both have a passion for serving our first responders and thanking them for what they do. A lot of times they don't get the thanks they deserve," Bettig added. 
Though there were fewer than 10 attendees the first year, word of mouth advertising has led to increasingly burgeoning numbers. "Every year, I'm getting more and more emails and making more and more contacts," Thomas said. He added with a smile: "The word is spreading that Chef Jeff makes a really good meal."
Kuyper's relationship with area first responders extends beyond the holiday meals. Local police and fire departments, as well as ambulance services, often use the College's campus to conduct trainings. They also work with Kuyper Campus Safety officers, educating them on topics such as fire safety and first aid. Thomas said, "We're able to help each other. It's really a win-win situation for all of us."
Hosting first responders at the holiday buffets provides an opportunity to give back to the community. 
"We encourage the students, faculty and staff to sit and talk with them," said Thomas. "We do everything we can to help them and provide for them. We walk around and thank them all. A lot of times, they're the ones that people forget about."