In a year at Kuyper focused on the theme "a life of service," a party for a service dog in training seemed like the perfect way to celebrate on a pleasant fall afternoon on campus.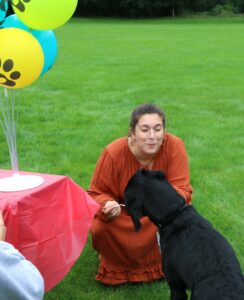 The "Pawty to Celebrate Vegas" brought together students, staff and faculty and, of course, the star of the show, Vegas, a one-year-old male black labrador retriever who has spent the last year with Kuyper's Emily Perton, the College's new director of student success.
Perton and her family partnered with Paws With A Cause, a West Michigan-based organization that for almost 50 years has worked to enhance the independence and quality of life for people with disabilities nationally through custom-trained assistance dogs.
"Vegas is the first pup we have raised," Perton said. "My husband and I felt we would be a good family since we have two boys with Down Syndrome, and so we thought the pup could get a lot of experience with people with disabilities."
Vegas also spent a lot of time on the Kuyper campus which was why Perton decided to host a goodbye party.
"As part of Vegas' training, we expose him to different places," she said. "Kuyper has been a wonderful place for him to learn a lot of different things. He has had practice visiting the students, being in chapel, being in class when I teach, being part of meetings and navigating campus. His exposure to all of these things has helped him be better prepared for whatever job he has in the future."
Perton added that Kuyper students loved Vegas and vice versa.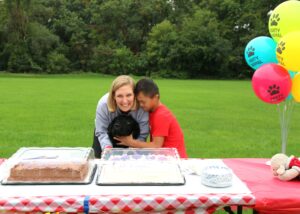 "They come to my office often to see if he is here," she said with a smile. "Everyone knows his name and greets him with love. He has an official ID made by the IT department, and the students were thrilled to teach him how to check out a book at the library. When he is in class, he greets students as they enter, and the students' faces light up when they see him."
Perton and her family take Vegas to puppy class at the Paws headquarters twice a month where the staff taught the Pertons how to work with Vegas on basic commands such as sit, down, leave it, stay, wait, stop, back, heel and more.
And, Perton said, Kuyper celebrating a life of service in 2023-24 was a cool connection to the work she did with Vegas and the work she will do with her next Paws With a Cause puppy, a 16-week-old male golden retriever named Tweed who just joined the Perton household and will become the next regular visitor to Kuyper's campus.
"I choose where to serve based on what breaks my heart," she said. "I believe the ache in my heart is God communicating with me about where I can make a difference.  The thing that breaks my heart the most is when people are not included due to something that they have no control over. Service dogs provide people with disabilities equitable access to world, and raising Vegas is one step toward someone having more access in the future."
Perton noted that the next step of Vegas' training will see him move into prison with two inmates for 4-6 months.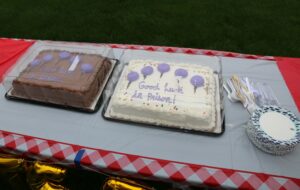 "This is a fabulous win-win program for inmates as they prepare for reentry and for Vegas as the inmates have much more time to train him," she said.
Following his time in prison he will then go through an assessment to determine where his strengths lie, and at that point he will be matched with his final trainer to set him up for a life of service. That could be anything from a hearing or school dog to PTSD or autism support or even a bomb detection dog.
"Whatever he does, we believe he is destined for greatness," Perton said.