Kuyper's New Athletic Program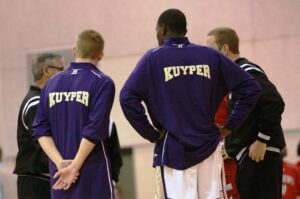 Kuyper College announced its membership in the National Christian Collegiate Athletic Association and plans to launch a new intercollegiate athletic program in the Fall of 2023.
"Developing an athletic program fits our mission and values as we provide holistic development for our students," said Dr. Patricia Harris, president of Kuyper College. "Athletics is one way we can equip students for purposeful lives of learning, work, and service to God and others. And, an athletic program provides an opportunity to deepen our engagement as a College community as we celebrate God's gift of play and sport."
The decision to reinstate an athletic program at Kuyper began over a year ago. According to Harris, "It's been an ongoing conversation. First, we looked at ways to provide additional opportunities to our students. Then, when athletics became part of that dialogue, the College's leadership team began to explore Kuyper's past program and how it could be improved." In addition, the College looked at the broader marketplace of Work Colleges and other schools like Kuyper, all involved with athletics. "Evaluating all the factors and the potential of athletics for our College, the leadership team decided that redeveloping our athletic program would be a good move, and the Board of Trustees approved this initiative in June," Harris said.
The Athletic Department will function under the leadership of Dr. Tim Detwiler, academic dean, highlighting the College's commitment to learning inside and outside the classroom. In the press release announcing the program creation, Harris said, "This reporting structure provides a powerful organizational message of the prominence of academics at Kuyper and how academics, together with athletics, will provide a holistic educational experience."
While a lot of organizational work, including active student-athlete recruitment and bringing coaches onboard is underway, several sports will be launched beginning in the fall of 2023. "We will be starting with junior varsity and varsity men's basketball as well as varsity women's basketball," said Detwiler. "We are aiming to add other sports, such as soccer for men and volleyball for women, as well as track and cross country. We want to do this well and do it right. We aim to build the program with care."
As this growth and expansion take place, it will generate fresh excitement among the Kuyper community. "We know athletics will bring enthusiasm and energy to our campus," Detwiler noted. "Anyone who has been around the world of sports knows the feeling of anticipating a game, hoping for their favorite team's success, or reveling in healthy competition. Engaging in athletics whether as a participant or spectator, brings people together and creates an atmosphere of camaraderie," he added.
An essential step in developing the new program was finding the right athletic director to lead it. Kuyper soon met that objective with Gary Bailey. A seasoned and successful National Christian College Athletic Association Hall of Fame coach passionate about mentoring student-athletes, he comes to Kuyper from Grace Christian University. As athletic director and men's head basketball coach, his teams won six national titles while participating in 15 NCCAA Division II Basketball Championships.
Though he has only been at Kuyper for a short time, it is already beginning to feel like home to Bailey. "I'm excited to be here and energized by my new role and the welcome I've received from the Kuyper community. I can't wait to start each day," he said. To Bailey, this is confirmation that he is in the place God wants him to be. "Everybody has been wonderful to me and is enthusiastic about getting athletics going. I felt led to be here, and I pray God blesses our efforts."
What makes Bailey such a good fit for the position of Kuyper athletic director are the values and worldview he and Kuyper share. In the press release announcing his appointment, Harris said, "Gary Bailey is widely known as someone dedicated to building and maintaining a vibrant Christian culture in athletics. He views athletics as an instructive educational tool for teaching and learning. He will provide strong leadership for Kuyper to fulfill our mission while making athletics an important component of our exciting campus culture."
Bailey is eager to bring his expertise to cultivating athletics at Kuyper. He compared the experience of building such a program to caring for his yard, something else he relishes. "I haul the dirt, smooth it out, and plant grass seed. I then water it, contour it the way I want, and watch the grass come up. I love it," he said. He enjoys the challenging but rewarding work of planning, laying foundations and nurturing growth and believes doing so can serve a higher purpose. "By helping Kuyper build the athletic program, I hope to find ways to advance God's kingdom," he said.
One of the many benefits of intercollegiate athletics is the potential to attract new students, many of whom might not otherwise think about attending Kuyper. "There are a lot of athletes out there who want to continue on into collegiate athletic participation," said Detwiler. "Being able to keep playing the sport they love is an important factor for many when selecting which college to attend." Athletics will also make Kuyper attractive to non-athlete students. "There are a lot of students that will come not to play but because athletics will add to an already vibrant campus culture," said Bailey.
Though the athletic program will bring many new and exciting opportunities to the College, it will also fit perfectly into who we are—a Work College—only one of 10 in the country and the only one in Michigan. As a Work College, Kuyper is committed to helping students learn, work, and serve. Therefore, students participate in a comprehensive program where they bring what they learn in the classroom to their workplace, which is used as a platform not only for additional learning but also to serve others. "With the creation of the athletic program will come many new opportunities," said Detwiler. "A large percentage of Kuyper students are involved in the KuyperWorks program, and we know that athletics will create additional job venues."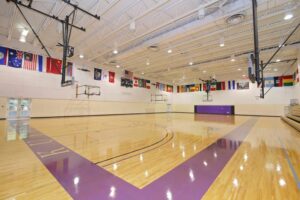 Kuyper's learning model is one of the many things that sets it apart from other schools. Kuyper integrates a biblical worldview into every academic program and every part of life on campus. Athletics will be no different. "The way the athletic program is conducted will communicate to both participants and observers that serving God is Kuyper's ultimate objective," Bailey remarked. "We're going to set a culture right out of the gate. We'll use athletics to give more students a Christian education."
Bailey believes an essential way of doing this is to set high standards for his players. He expects them to lead honorable lives and work hard in school and on the job. "If students don't come to class or do their homework, they're not going to play," he said. "Properly ordered priorities are more important than winning and losing. If our players do not strive to do their best in their lives off the court, we will provide them with a strong motivation to do so. They're not going to put on the uniform again until they do," he added.
Positively impacting the lives of athletes is perhaps the most crucial benefit of having an athletic program at Kuyper. It is yet another way of fulfilling our mission. As he continues to develop athletics at Kuyper, this will be at the forefront of Bailey's mind. "We're going to get the right coaches in here. They will be mentors to their athletes and pour into their lives," he said. As a former athlete, Bailey knows the beneficial influence a coach can have in the lives of their players. This drives him in his profession and will continue to motivate him as he builds Kuyper's program. "I have always loved educating and mentoring young people," he said. "For me, that is the primary value of athletics."