Meet An International Student: Malvern Syaluse
Since he was a young boy, Malvern Syaluse has loved sharing God's Word with others.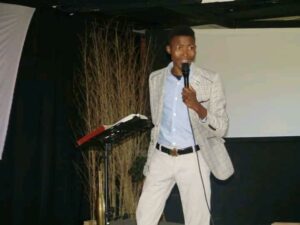 "I grew up serving in the youth ministry at my church. When I was in high school, I got involved with street ministry. We would preach the Gospel in the countryside on the outskirts of my city, praying for people and leading them to Christ," he recalled.
Originally from Zambia, in the south of Africa, Syaluse is one of the students who call the Kuyper campus home year-round. His passion for spreading the good news of Jesus is what brought him here last fall.
"Before I came to Kuyper, I had been working in ministry full-time since 2017. I led the youth and music ministries at the church my uncle pastors in South Africa," he said.
Syaluse believed further training could help him in what he was already doing. When his brother, who was living in the United States at the time, told him about Kuyper's Ministry Leadership program, he knew it would be a perfect fit.
The best parts of the program so far are the classes and professors who teach them, Syaluse says. 
"My favorite class was Linguistics with Professor Zwart. I also really enjoyed Dr. White's class, Youth Ministry in the Urban Setting," he added.
Syaluse's KuyperWorks job is also helping him build workplace skills in addition to his academic knowledge. He serves on the facilities team, caring for the campus behind the scenes, and he enjoys the variety the job brings.
"I don't like sitting idle; I like getting my hands dirty from time to time. I chose facilities because there are so many different things to do, and I like cleaning and tidying," he said with a smile. 
When he graduates, Syaluse plans to pursue a ministry-focused graduate degree. 
His passion for spreading the Gospel has only grown during his time at Kuyper, and he wants to make it his life's work.
"It's always important for people to know and discover God for themselves, to have that personal relationship with Him. I want to continue doing ministry if God allows," he said.