Meet An International Student: Prince Muleya
"Coming to Kuyper was such a smooth process. God opened the door, and then everything was so easy from the time I started applying to the time I actually started attending," said Prince Muleya.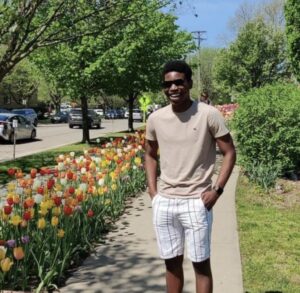 The kindness and guidance he received from the admissions staff confirmed that Kuyper was the college for him, he added.
Originally from Zambia, in the south of Africa, Muleya is one of the international students who call the Kuyper campus home year-round. He still remembers journeying to Kuyper for the first time.
"It was the first time I ever flew on a plane," he said with a smile. "I'm the youngest of four, and it was also the first time I got to do something that big on my own."
He initially heard about Kuyper from his older brother, who was living in the United States at the time and knew a Kuyper student.
"It's hard to find opportunities back home so, when my brother heard about Kuyper from his friend, he recommended I apply," he recalled.
When he heard about the Business Leadership program, he was hooked.
Now, after two years in the program, Muleya's love for Kuyper has only grown deeper.
"The way the Business Leadership program is designed is really beneficial. It brings best business practices and the Bible together. You get to see that business is a gift from God that you've been entrusted to manage," he emphasized.
Muleya has also been able to develop a biblical perspective on work, thanks to his participation in KuyperWorks.
Because the program integrates classroom learning with the learning he experiences while serving on the facilities team, he is discovering that properly ordered work is an integral part of God's plan for creation.
And he enjoys doing it.
"Bathrooms are one of my favorite spots to clean," he said, laughing. "Working on the facilities team has been very cool. My supervisor is awesome, and he trusts me to get the work done on my own. It's a very different work culture than back home, but I like it."
After graduation, Muleya hopes to put the knowledge and experience he has gained at Kuyper into practice as a financial advisor.
"Back home, there are a lot of small businesses that need someone to come alongside them and guide them in managing their finances. A lot of them are struggling, not because they don't have money, but because they need help handling it. I think that's something I could do to help," Muleya said.