Meet Emily Perton: Director of Student Success
For Emily Perton, the new Director of Student Success at Kuyper, working for a Christian college and helping people find their place of belonging brings personal and professional passions together in one vocational location.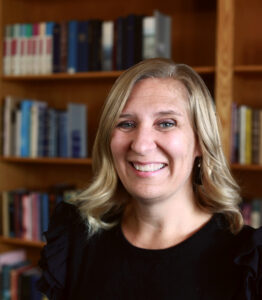 "In each area of my life I attempt to point others toward Christ's love," she said. "And so, I see that my life mission and the mission of Kuyper are synchronized."
That feels good, she said. But she's also excited about the ways in which Kuyper equips its students to impact the world through Christ, including via the Work College model (Kuyper is Michigan's only Work College).
The Work College model integrates learning, working, and serving as the core component of studies at Kuyper. It also helps get students career-ready when they graduate while making their education more affordable.
The most visible display of Kuyper's Work College initiative is the KuyperWorks program, which integrates classroom learning with the learning students experience within their workplace, either on or off-campus. 
Perton said that emphasis was a real draw as she considered a career transition herself.
 "All of the academic course work, the campus life, and the job opportunities through the KuyperWorks program have a missional focus," she said. "As a result, Kuyper offers such a unique college experience."
The Student Success program at Kuyper was created as part of the many efforts at the College to ensure that every student succeeds. Each freshman is paired one-on-one with an upper-class level student who serves as their student success coach, and those upper-class level students provide care and direction on a wide range of topics.
As the Director of Student Success, Perton will work with all of the students – both the incoming students and their upper-class level mentors – and will support them as they work toward their goals.
"This position is the perfect combination of my skill sets and degrees," Perton said. "I am eager to meet the students and hear what their dreams are. As I get to know the students, I am excited to support them and see them reach their goals."
A Jenison native and graduate of Jenison High School, Perton earned an undergraduate degree in psychology from Grand Valley and a graduate degree from Western Michigan in family and consumer science. She also has a professional teaching certificate in K-12 special education and K-5 general education and special education endorsements in cognitive impairments and emotional impairments.
"Following an internship in high school with a group of students on the autism spectrum I realized my passion for teaching as well as a calling to advocate for people with disabilities," she said. 
Her graduate degree in family and consumer science came because she was teaching so many life skills in her teaching positions that she wanted to learn more about how to teach daily living skills well. 

Perton spent six years as an instructor in Hope College's Ready for Life program, a postsecondary transition program for people with intellectual disabilities from the ages of 18-26. 
For the past seven years, she was the executive director of Ready for Life and oversaw programs at Hope, Calvin, and Ferris State, including launching the programs at Calvin and Ferris State.
She also taught in West Ottawa Public Schools and for the past year taught an education course at Calvin, oversaw 30 students' practicums in various schools, and assessed them on the content and curriculum of class work.
In her free time, she said she loves spending time with her family (her husband, two kids, and two dogs). 
"We enjoy biking, walking in nature, swimming, and having dance parties," she said with a smile. "I also enjoy cooking and gardening."