Meet Jamie Tiemeyer: Kuyper College's New Director of Library Services
Jamie Tiemeyer
is the new director of library services at Kuyper College.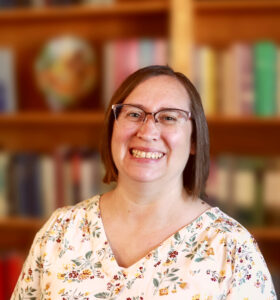 She has worked in libraries in Christian higher education for nearly 20 years, including almost 15 as a librarian, and is thrilled to be at Kuyper College.
"One of the things I love about Kuyper is the wonderful community that is here," she said. "I felt a peace and inclusion even during my first interview. So, I knew this is where I am to be working for God and His people."
She grew up in the small town of Kingston, located about in the middle of Michigan's thumb, about 40 miles due east of Saginaw. There she went to Kingston High School and then traveled west to Grand Rapids where she earned her undergraduate degree from Cornerstone University. She also has a Master of Library and Information Science degree from Wayne State University.
She had thought as a high school student that she might like to be a teacher someday, so she studied elementary education with a focus on early childhood education as an undergraduate.
"I thought I was going to be a kindergarten teacher," she said. "But God had other plans for me in the library world."
She was working full-time at Miller Library on Cornerstone's campus while she earned her master's degree. And it was in that post that she came to better know Kuyper College.
"Cornerstone, Kuyper, and Puritan (Seminary) libraries are part of a consortium called CULN," she explained. "So, I worked with (former Kuyper director of library services) Michelle Norquist from time to time. She let me know about the position."
Tiemeyer said applying for the post was an easy decision, and she is eager to serve the Kuyper community.
"I am looking forward to knowing and serving the Kuyper students, faculty, and staff through library services," she said.
In her free time, she added, she loves to hang out with her husband and two children.
One of her favorite things to read is biblical fiction books, so she welcomes people who want her recommendations on where to start with the genre.