Meet Nathan Slauer: Manager of the Annual Fund and Alumni Relations
Nathan Slauer is the new Manager of the Annual Fund and Alumni Relations for Kuyper College.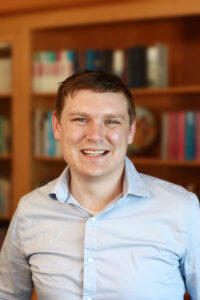 A Grand Rapids native, Slauer attended Grand Rapids Christian High School and then Calvin College where he studied political science, history, and social studies, graduating in 2015 with a bachelor's degree. He is currently finishing up a master's at Grand Valley in Philanthropy & Nonprofit Leadership and Business Administration.
He comes to Kuyper from Disability Advocates of Kent County where he served as that nonprofit's Annual Fund Manager. There, he said, he increased annual fund revenue through donor engagement and compelling appeals, and he looks forward to doing the same at Kuyper.
"I have enjoyed developing my fundraising, marketing, and management skills as a graduate student and at the organizations I have served," he said. "My hope is to use these skills to best support the mission of Kuyper College."
Slauer added that as an undergraduate student, and now in his master's program, his eyes have been opened to the world's challenges and how Christians are called to work for solutions to problems. And he said, in both his work and his service on a variety of nonprofit boards, he has witnessed the many inspiring stories of people working for change.
He knows Kuyper is home to myriad such stories.
"The college years are a formative time when students grow in their faith, shape their worldview, and prepare for their adult life," he said. "I'm excited to support Kuyper as we continue to shape the next generation of Christians to lead in their communities and the world."
His role in the Kuyper Advancement office positions him well, he said, to be part of the college's ongoing mission to bring God's grace into today's culture.
"In the advancement office, I'll be helping to develop campaigns, share stories with donors, and plan major events," he said. "I also look forward to developing alumni programming and building relationships with Kuyper's students."
Part of that work, he added, will be to continue to connect alumni, donors, and students to Kuyper's role as Michigan's only Work College and the ability of Kuyper to help students afford their education and graduate career ready.
Slauer's other professional experiences include marketing and development for the Susan Mast ALS Foundation, event planning for the City of Lansing's neighborhood and citizen engagement program, AmeriCorps service for Bethany Christian and Goodwill, and work in the Michigan House of Representatives.
He also serves on the board of the Family Network of Wyoming and the Heartside Downtown Neighborhood Association in Grand Rapids.
Outside of work and board service, he said he enjoys running, reading, and spending time with his friends, family, and dog.