On Earth As It Is In Heaven
The world created by God was a place of absolute and unchanging beauty, where all things existed in harmony with Him. Scripture tells us God saw everything He made and called it good. But sadly, things did not stay that way. Through Adam and Eve's rebellion, sin, brokenness and death entered the world, spreading throughout creation until nothing was left untouched.
However, we know that Jesus' victory over sin, brokenness and death has already been accomplished, even if it is not fully realized. Yet, God invites us into His ongoing redemptive work as stewards of creation and agents of its reconciliation.
Pilar Meyer-Dunning, a current adjunct professor and Kuyper graduate, has worked tirelessly to bring about God's redemption to His created world. She has years of experience working in various aspects of social work, knowing it plays a crucial part in God's plan. "I believe God uses His people to help show His faithfulness to the world," said Pilar. "It is part of my job as a Christian to help God's image-bearers thrive in the world He created."
Pilar grew up as the child of a pastor. Her family lived in several different locations in the Midwest before settling in Grand Rapids.
"At Kuyper, I found that I love encouraging and coming alongside people, and that's why I landed in social work," she said. As she progressed through her social work program, Pilar fell in love with the field. "Social work at Kuyper is such a great program. It trained me to be successful; I found that it was my calling," she noted.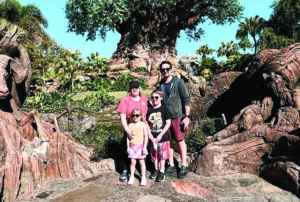 During her internship, Pilar built skills that would become vital to her future career. "Through Kuyper, I interned at Spectrum Health. I appreciated it because, in social work, having a significant internship is critically important," she said. She worked in care management while supporting families emotionally through diagnoses and crises and performing mental health and psychological assessments. This involved interacting directly with, advocating for, and helping patients. "One of the best things about the Kuyper program is that it puts you in places where you get a real, authentic experience of working in your field. Working through class issues and the lived experience of the internship creates a remarkable space to grow professionally," she said.
Striving to Build Authentic Relationships 
At Kuyper, Pilar was exposed to a particular area of social work that eventually would become her passion. "We started learning about human trafficking, and I became invested in education and prevention," she recalled. Soon after graduation in 2006, an opportunity came for her to pursue this passion further. "The Salvation Army had an opening for an anti-trafficking position in Chicago, so I moved there," she said.
"I started out doing outreach in Chicago, working to connect with folks who were experiencing homelessness or spending time on the street. The goal was to identify survivors of trafficking in the city," said Pilar. She and a partner would take essential supplies into at-risk neighborhoods, interacting with community residents. "Getting to know what it was like to live unhoused was a big part of that," she said. "We met people who lived in marginalized communities or who struggled with mental health issues and engaged with them in a way where we could build authentic relationships."
During her time in Chicago, Pilar said she learned the value of making the people she interacted with feel truly seen: "What I heard from people who lived on the street or had been trafficked was that something as simple as making eye contact was huge for them." She knows there is a fear that such interactions come with expectations. However, this fear is often unfounded. "The people I engaged with told me that, when they are looked at and acknowledged as human beings, that is extremely meaningful to them," she said. Seeing the humanity of the people she serves and showing them the respect they deserve as image-bearers of God continues to inform Pilar's work.
Bringing Real-World Experience Into the Classroom Since that job in Chicago, several years have passed, and Pilar is now a West Michigan resident again. Her present career evolved from working in direct service to managing a program to now working in administration over those areas. "Currently, I am the executive social services director at the Salvation Army, overseeing social services for the Western Michigan and Northern Indiana region. Specifically, I have oversight of all our Kent County programs," she said.
Pilar has now found her way back to Kuyper College, where she currently teaches as an adjunct professor of social work. She brings her knowledge and years of field experience to her teaching and students. "My approach is very practical. I talk about theoretical concepts, but I always integrate that with actual social work practice," she said. "I've also had Kuyper students intern under me at the Salvation Army. I've even hired a few, so that's been a great way of giving back to Kuyper."
The Reality of Human Trafficking
One thing she hopes to pass on to her students is her passion for fighting human trafficking. An essential part of that is dispelling some of the myths surrounding it. "There's sometimes this idea that human trafficking is this international issue or something that happens somewhere else. We talk a lot about places like Thailand and the commercial sexual exploitation of children. Still, the reality is that, while looking very different, trafficking happens in our community too," she said. For her, understanding this is not about minimizing the gravity of what happens in other parts of the world. Instead, it is about having an accurate picture of what human trafficking looks like in our own communities to combat it better.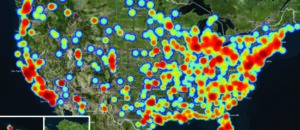 The reality of human trafficking, Pilar said, is often very different than the sensationalized version the public sees in movies and television shows. "It is like a relationship where somebody grooms someone else to perform and behave a certain way—the kind of grooming we find in sexual abuse and domestic violence," she said. "Traffickers create power over their victims and exert that power to exploit them," she added.
"In the United States, and specifically in West Michigan, trafficking can look like forced prostitution. People may be forced to participate in sexual activity in exchange for money or something else, like a place to stay," she said. "If it is for money, they may then have that money taken by the person who is trafficking them. It can also look like people trapped in an environment like an illicit massage parlor." However, she explained that human trafficking does occur in contexts that do not involve sexual activity: "There is also labor trafficking, where people are being exploited for their labor. This often happens in the farming and agricultural community, where fair wages are not being paid or garnished." She added that there are threats of harm to family members, or of taking away immigration papers, or reporting undocumented workers to immigration services.
Pilar knows that these are difficult, uncomfortable topics to wrestle with, but she also recognizes that we must do so to confront the specter of human trafficking. "It's important for our culture to acknowledge the oversexualization of women and girls," she explained. She said that understanding and facing these issues is the first step toward making real change in our world.
Witnessing God's Faithfulness
After all her years in the social work field, Pilar is still carrying with her truths she learned as a student at Kuyper.
"Understanding it's not me with the power was a big lesson for me," she recalled. "Of course, I went into studying social work with this idea that I was the one with the answers and thinking I was going to save everybody, but that's just not reality." She has watched this idea play out in her career as well. "Throughout my time, I've learned that I'm not the expert. The people I work with are the experts in their own lives, and they know what they need. The relationship part is about connecting with someone and figuring things out together," she added.
To Pilar, her work is ultimately about participating in what God is already doing to transform and restore His creation. Every time she is part of someone escaping human trafficking or addressing factors in a community that feeds trafficking, she is helping to fulfill God's will. That is the hope that sustains her when the work surrounding her feels dark and heavy. "God is redeeming all things: people, places, relationships, communities. Seeing that lived out is such a cool thing. It's watching God's faithfulness playing out in real-time. It is amazing," she said.
Human Trafficking by the Numbers*
55% of trafficking victims are women and children.

12-14: the average age a teen enters the sex trade in the U.S.

$150 billion: Reportedly, the profit generated every year by human trafficking.

45 million: Number of people affected globally by human trafficking (with 2 million children) in over 167 countries.

80% of human trafficking cases involve sexual exploitation 20% of human trafficking cases involve labor exploitation.