Peaceful Protests of Payday Lending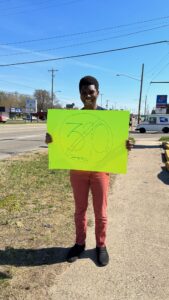 An unusual class field trip near the end of the spring 2023 semester saw Marc Andreas and students in his Nonprofit Management course take to the streets for the peaceful protest of a local payday lending institution.
Andreas is the program director and professor in Kuyper's Business Leadership Department and regularly invites guest speakers to share their experiences with his students. Prior to the protest, Dallas Lenear, founder and executive director of Project Green, spoke to the class about running a nonprofit that focuses on promoting financial literacy and economic justice for all.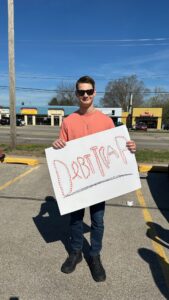 "A big part of Project Green's work is actually protesting against payday lending stores," said Andreas.  
According to Andreas, payday lending is an unjust practice that helps trap the vulnerable in a cycle of poverty. 
"These places are very deceptive intentionally to try to trick people who typically have low education backgrounds and are in crisis," he said. 
Often available through storefront lenders, a payday loan is generally for $500 or less and is due on the borrower's next payday, Andreas explained. Those who use payday lending are often struggling financially and need the funds for emergencies. These short-term loans allow them to quickly cover their expenses.
But the practice comes with a catch.
"These places offer cash in a crisis, but their loans come with really, really high interest rates, which are often not explained very well," said Andreas. A typical two-week payday loan charges a fee of $10-$15 per $100, which equates to an annual percentage rate (APR) of almost 400 percent.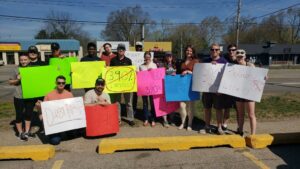 Borrowers also often can't pay back the loan right away and get stuck in a cycle of borrowing. The Consumer Financial Protection Bureau found that nearly one in four
 payday loans are reborrowed nine times or more. Plus, it takes borrowers roughly five months to pay off the loans and costs them an average of $520 in finance charges.
"It ends up becoming a vicious cycle of debt," Andreas said.
Participating in the peaceful protest was an opportunity to live out Kuyper's Christian worldview and take a stand against injustice.
"It was a chance to walk the talk," said Andreas.