Serving Others Humbly: Ora Et Labora with Allie Roehl
Allie Roehl admits that at first glance it might not appear she is relying on her college studies in her current line of work.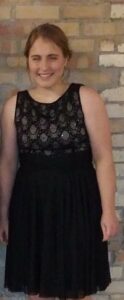 Roehl, who graduated from Kuyper College in 2020 with a degree in social work and again in 2022 with a Master of Ministry degree, chuckled as she said, "Those aren't usually fields you think of as setting you up for a career in digital marketing."
Speaking to members of the Kuyper community assembled in the Vos Chapel for Ora Et Labora, a weekly time where speakers come to campus to talk about their work and how their faith impacts that work, she was quick to add that her studies have actually prepared her very well for the work she is doing now. 
After spending four years working for PRC Grand Rapids, an organization that provides pregnancy services to women considering abortion, she now works for Life Advancement Group, which harnesses cutting-edge technology to reach and connect these individuals with crisis pregnancy centers.
"I think anyone who goes into social work or ministry already has a desire to serve those who are disenfranchised or can't speak for themselves. For me, children in the womb became the focus of my social work and ministry," she said. 
This mission has led to significant transformation in her life, Roehl added.
"When you have the influence of the Holy Spirit, it's impossible for your compassion to not increase when you see people in their need. God has really humbled me to realize that I'm not that different than the people my organization serves," she said.
This kind of humility in service is something Roehl feels blessed to have had modeled for her by others in her field. 
"I've had such great examples of people joyfully serving, even when they get no recognition for it," she said, smiling. 
But humble servanthood isn't something reserved for those who are in social work or ministry, she reminded her listeners. Over and over throughout Scripture, we see God's heart for the vulnerable and direction to care for them, wherever we are. 
"We're called to seek the interests of others and not ourselves," she said.