Steadfast Faith: A Kuyper College Graduate's Inspiring Journey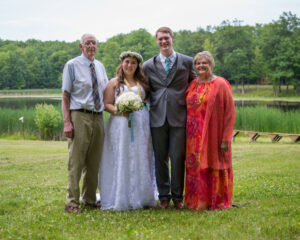 Annually, Kuyper graduate Willene Tanis chooses a new word to meditate on. These words help her to keep Biblical truths at the forefront of her mind throughout theyear.
"This year, the word I chose was 'steadfast', because the dots of my life have really connected to show God's faithfulness," she said.
Raised near Pella, Iowa, the then Willene DeBoef first heard of Kuyper (then known as Reformed Bible Institute) from her aunt, who had graduated from the College before becoming a teacher. 
"She was my grandparents' caregiver and, when my family would visit them in West Michigan, I would see her yearbooks and teacher magazines. I was intrigued, and that started me down the path to Kuyper," Tanis recalled.
After graduating in 1964, Tanis worked as a teacher and paraprofessional for several years in Imlay City, on Michigan's east side. While there, she met and married her husband Mike, and the two raised a family together. 
Though she loved her life, Tanis also hoped to become a published writer. After submitting pieces to various outlets with lackluster results, she was given the opportunity to write for her local weekly newspaper, the Tri-City Times. 
"That really grew into a calling for me," she said. 
Tanis produced several columns for the Tri-City Times over a span of 30 years, but one called "Perspectives" was her favorite. In it, she shared personal stories and insights, often with an uplifting message. 
"I could work in my background and experiences into what was happening that week. Whenever I had the opportunity, I would try to add in bits of truth," she said. 
Looking back, Tanis can see how the steadfast hand of God prepared her for that work.
"I really believe that God used the sum total of my experiences for His good purposes. Through working for the paper, I was able to be salt and light in the world," she said.