Student Spotlight: Laura Arens
For Laura Arens, it was easy to choose a career in social work.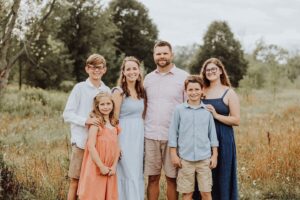 "I was initially drawn to it because, growing up, caring for others was just our family culture," she said. "It was a natural outgrowth of our values. Two of my sisters became social workers as well."
By the time she's finished with her education, it will be three out of four siblings in the field, she added with a chuckle.
And, when it came time to select a place to prepare for this vocation, Kuyper College was at the top of her list. 
"I was drawn to Kuyper because of the smaller student body size, the beautiful campus and, most importantly, the Christian worldview," she said.
Arens initially enrolled at Kuyper in the fall of 2003 and quickly discovered that the College did indeed live up to her expectations.
She smiled as she recalled her first days as a student: "One of my first thoughts was surprise at how well teachers integrated faith in the classroom. I'd grown up in Christian schools, but I found out that there is always more to learn about God."
Though she loved her first year at Kuyper, she struggled to decide whether to enroll again in the fall. 
"I felt unsure whether I should continue with my social work degree because I was worried about how I would pay for three more years of undergraduate studies, plus the master's degree I would eventually need," she said.
Unfortunately, her fears won out, and Arens decided instead on an associate degree in child development at a different institution, shutting the door on a social work career.
Or so she thought. 
As the years went by and she married, had a family and worked in a variety of administrative assistant positions, she continued to feel pulled to go back to school.
"I struggled, because I knew that God had something more planned for me, but I wasn't sure what," she recalled. 
But last summer, while working at a Christian counseling practice, she said she finally felt Him place a specific, undeniable call on her life to finish the degree she'd started years before.
After praying and discussing it with her husband, Arens decided to reenroll at Kuyper, though she still worried about how to pay for her education. 
"I told God, 'If you want me to have this degree, please make a way,'" she said. "The very next week, He answered my prayer by providing scholarship funding. I felt so grateful because it confirmed that God wanted me to finish my degree at Kuyper 19 years after I began."
Now a senior in the social work program, Arens lost her home to a fire last winter, but she said scholarship funding allowed her to continue her studies.
Looking back on her journey, Arens said she can see how God was there all along, guiding her to exactly where she needed to be, and she looks forward to following the path He lays out for her after graduating from Kuyper in the spring.
Tears gathered in her eyes as she said simply: "He continues to show that He will provide when I follow the call that He has placed on my life."