The Driving Force Behind Kuyper College
The world ushers in new uncertainties every day. Like opening a fire hydrant, one needs only to turn on a news channel or open an internet browser before we are met with a torrent of distressing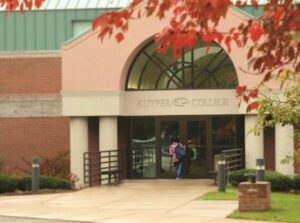 information. With political turmoil, climate concerns, economic uncertainties, international disputes, to name a few, it is easy to become swept away by the currents of unpredictability. More than ever before, Kuyper College is grateful to be strengthened and confidently guided by its solid foundation, rooted in the Bible and reliance on God. 
Even the namesake of the College reflects this bedrock truth. Abraham Kuyper was a statesman, scholar, theologian, pastor, journalist and educator who lived in the Netherlands from the late 19th to the early 20th centuries. Much of his theology revolved around the idea of worldview, which he believed was both a corporate and personal way of perceiving and interacting with reality. At Kuyper College, our faith is more than just a private matter. Here, Scripture is applied to all parts of life, helping us to make sense of the world around us. Having a strong understanding of both our worldview and that of the individuals and cultures we are engaging with is a key part of bringing God's grace into our various spheres of influence.
 This has been the Kuyper way since the very beginning. When Kuyper College was founded in 1939 as Reformed Bible Institute (RBI), it was a school for training missionaries. In the years since, the driving force behind education at Kuyper has remained the same. The end goal has always been to faithfully live for Jesus in His good world. Learning here is about so much more than achievement, good grades, or the accumulation of knowledge; it is about the love of God and neighbor. As students at Kuyper progress in their studies, they encounter God revealing Himself through whatever material they happen to be covering. They learn to deepen their understanding of who He is and the nature of His love for them, expressed most fully in the person and work of Jesus. They learn and are empowered to love and serve Him in return—thereby developing a lifelong biblical worldview that helps them serve and love others. 
This is the driving force behind all that is done at Kuyper College. Other schools might teach classes on explicitly biblical topics, but Kuyper integrates the Bible into every program and every part of campus life. From the content of curricula to the handling of administrative duties, everything is influenced by the desire to equip students with a biblical, Reformed worldview so they might serve Christ's church and His world more effectively. Four of our core programs, ministry leadership, social work, business leadership and interdisciplinary studies provide an example of this
The ministry leadership program prepares students for careers in places like the local church, Christian education or parachurch organizations. Students have the opportunity to take classes focusing on Bible and theology as well as ministry-related topics. Choosing a minor in an area that interests them, such as biblical Greek or youth ministry, allows them to personalize their degree path to better prepare themselves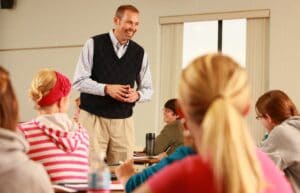 for whatever God might be calling them to. After graduation, they are also qualified to pursue a variety of graduate programs in ministry and theology-related fields. Through their time spent in the program, students are prepared to bring the grace of God to expanding and changing ministry environments. Dr. Dan Kroeze, professor of biblical studies, said of the program, "It equips students to be able to teach and communicate the Word of God."
The social work program develops servant leaders who are ready to minister to people at some of the most vulnerable moments life can bring. It builds the knowledge, skills and attitudes that will enable them to communicate God's love to those they work with. Students dive deep into topics such as human behavior and social welfare policies, learning to bring these values into their future careers. These could be areas such as child welfare, gerontology, corrections, or one of many other possibilities. Although such spaces may or may not be overtly Christian, graduates of the program learn to follow the lead of Christ wherever they go. "Jesus was consistently reaching out to those on the margins, who were shunned by society, who didn't have a voice, and social work gives us the chance to do the same," said Kelli Hoffman, professor of social work.
The interdisciplinary studies program was crafted for individuals who hope to study more than one field. They receive a firm grounding in Bible and theology-related material while also having the ability to create their own, highly personalized educational path. These students will work with an advisor to build a program that helps them discern and follow the calling God has placed upon their hearts. They may choose to focus on a topic such as psychology or communication studies and have a wide variety of potential careers open to them. Graduates of the program have gone on to become writers, to attend seminary, or to head programs for individuals with disabilities. But the most important thing they gain from their time in the program is the formation of their identities. Kristyn DeNooyer, a graduate of the program, said, "My time at Kuyper was really formational in who I am as a person and who I am in relationship to God."
The business leadership program is about much more than the pursuit of profit and success. Building skills in areas like management, marketing or accounting teaches students effective business practices that are informed by biblical principles. They are also prepared to work in fields such as financial planning, public relations, management and marketing or to pursue graduate programs. Driven by the belief that all people are made in the image of God and that the world is His good creation, the program teaches students to use business endeavors to make a positive impact on people and the planet. "Our biblical worldview here at Kuyper College is interwoven throughout all of the business leadership classes. We teach students to not only make money, although that's very important, but also to care about the planet and society," said Marc Andreas, professor of business leadership.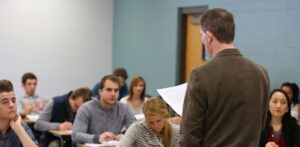 Whether a student chooses one of these programs or another, their education will heavily involve real-world experiences. Many other schools separate what happens in the classroom from everyday life, but at Kuyper, there are opportunities to learn everywhere. The College believes that classroom learning strengthens students' abilities to serve others once they step outside its four walls. In the same way, their experiences in the real world enhance what takes place in the class environment. Many of the programs at Kuyper utilize practicums or require robust internships as an intrinsic part of their degree path, rather than making them optional or supplemental. This holistic experience helps cultivate in students a readiness to grow in service to the church and the world. 
Internships are not the only way Kuyper College's strong biblical foundation has inspired concrete action in the world. In July, the U.S. Department of Education recognized the school as a work college. This makes it only the 10th of its kind in the country and the first ever in the state of Michigan. A work college intentionally integrates service, learning and work to create a one-of-a-kind higher education environment. Students at such institutions hold positions in job placements either on campus or with outside workplace partner organizations alongside their regular studies. They receive regular feedback and guidance from both academic and organizational advisors, as well as a work transcript upon graduation. 
Properly ordered work has been part of God's good plan for His creation from the very beginning, and achieving the designation as a work college allows Kuyper to follow that design with a deepened commitment. 
This new educational evolution teaches students what it means to be a Christian worker in today's world while also giving them the tools and experience to succeed in their callings. "We're working hard to make things as good as possible for our students," said Dr. Andrea Fryling, registrar of Kuyper College, "and to produce exceptionally well-prepared students." The goal is for graduates to have a broader range of possibilities upon finishing their degrees.
College-aged students are not the only ones able to take advantage of a Kuyper College education within their own neighborhood. Through a partnership with The Potter's House Christian School, Kuyper has brought this access to high school students in the Roosevelt Park neighborhood in Grand Rapids. Kuyper professors travel to The Potter's House to teach business leadership classes and provide unique, hands-on experiences, such as class speakers and field trips to local businesses. Upon graduating high school, students have the option of transferring to Kuyper with up to a year's worth of college education already completed. 
In the Gospel of Matthew, Jesus told the story of the wise and foolish builders. The one who built his house upon a firm foundation was the one who could withstand a storm. Back in 1939, the founders of Reformed Bible Institute built the school on the firm foundation that could never be shaken. Thus, God has been faithful through it all, shepherding the College to become what it is today. It's biblical foundation and Reformed worldview have never changed and will continue to allow Kuyper College to stand firm through all the years to come.