The Kuyper Service Award: Honoring the Business Office, Human Resources and IT Departments.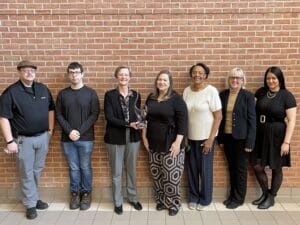 This month, the Business,  Human Resources, and IT Offices are the Kuyper College Service Award recipients for their extraordinary efforts in the face of many challenges over the past 12 months. 
Within these offices are talented and dedicated individuals with decades of combined experience, including Christine Mulka, Sandy Drummond, Annie Fields, Tanja Kovacevic, and Sam Brillinger. The Kuyper community values the work they do.

The Business Office manages the College budgets, finances and vendor payments. They also come alongside students to make it as easy as possible for them to understand the process and keep up to date with their tuition payment plans.

The Human Resources department is responsible for the recruitment and onboarding of staff. They also play an integral role in the payroll and benefits processes of the College. In addition, HR is tasked with the College-wide communication of policies and procedures. Throughout COVID, this was critical for staff and faculty working from home. "It is a privilege to serve the staff and faculty of Kuyper," said Annie Fields, Human Resources Director, "we know that everything we do serves the greater purpose of everyone who's here doing God's work."
Since the Summer of 2020, the IT department has been working non-stop, implementing a plan to upgrade the College's technology. All classrooms now have new computer/projector systems, while the Zondervan Library has new student computer kiosks and workstations. In addition, most of the staff and faculty's laptops have been replaced with the latest offerings. 
"We are not finished yet. Our plan calls for upgrading other technology systems around campus in the near future," said Sam Brillinger, a member of the IT department.
Recipients of the Service Award are chosen for exhibiting the spirit and work of the College's mission statement, and the individuals represented in each of these areas exemplify this. Christine Mulka, Controller and Chief Financial Officer, said, "The Business Office and its departments serve the Kuyper community by meeting needs that come from student, board, staff, faculty and students. When we provide a student with a tax form, the board of trustees with reliable financial reporting, a staff member with human resources support, and faculty and students with the latest technology, we are serving our brothers and sisters in Christ".