The Kuyper Service Award - Honoring the Teaching Faculty
This month, Kuyper recognizes the Teaching Faculty as we continue to honor the recipients of the Kuyper College Service Award. Due to the extraordinary efforts made and challenges faced by everyone during 2020 and the outset of COVID-19, the decision was made to present this award to the entire faculty and staff.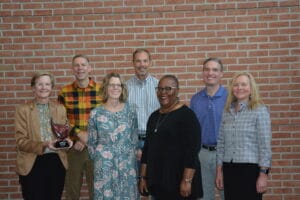 Among the Teaching Faculty are many talented and dedicated individuals who have decades of experience across a wide variety of disciplines. The community here at Kuyper College deeply values the work done by every full-time and adjunct faculty member, as well as the care and attention they give to their students. Many also serve in more than one capacity.
Recipients of the Service Award are chosen for exhibiting the spirit and work of the College's mission statement, and the Teaching Faculty exemplify this in many ways. "I aim to challenge, shape and nurture students, and to model what it looks like to be a follower of Jesus. I love doing that in the classroom, but also in one-on-one meetings with advisees and other students," said Dr. Lisa Hoogeboom. Dr. Richelle White said, "I serve as a faculty supervisor and accountability partner, ensuring that Kuyper students are serving our ministry partners through their gifts, talents, and skills in ways that glorify God."
Though they have different roles and responsibilities, the Teaching Faculty share a common goal. As Dr. Dan Kroeze said, "I love teaching at Kuyper College because I am passionate about equipping students to dig deeper into God's Word, to learn what it means to be a disciple of Jesus Christ, and to encourage them to engage God's world with the good news of the Gospel."