Transforming Communities Through Daily Bread: Ora Et Labora with Lance Kraai
Lance Kraai believes that community transformation begins at home.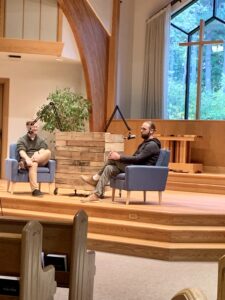 "What I like about social enterprises like ours is that all of our staff live in the neighborhood," he recently told members of the Kuyper community assembled in the Vos Chapel for Ora Et Labora, a weekly time where speakers come to campus to talk about their work and how their faith impacts that work.
The organization he was referring to is New City Neighbors, where he serves as operations director. NCN uses urban farming to create employment opportunities for youth while providing Grand Rapids' Creston neighborhood with a place where all are welcome to gather and form relationships through healthy food.
Though Kraai acknowledged that there are charities doing good work using volunteers from outside the communities they serve, he emphasized that something is missing from this model. This is especially true, he added, for social enterprises, which are businesses that exist to create positive social change. 
"It's not all bad, but it's not always the best way for the community to feel empowered and equipped," he said.
By providing good work opportunities, he said, organizations like NCN create space for those they serve to discern their true calling which, in turn, helps the community begin to flourish from within.
But Kraai also believes that, before anyone can even begin to ask questions related to calling, they must first have their basic needs met. This is one of many reasons why he is so passionate about his work with NCN, which provides fresh produce to hundreds of local families.
"The language of calling has a sense of privilege associated with it because, when you're in survival mode, you're not thinking about where you're being called, you're just thinking about your daily bread," he said.
Tackling the issues of basic needs and meaningful work opportunities is good for everyone, Kraai believes.
"It just a disservice to us all when we have a large segment of our population not doing what they're called to do," he said. "Think about how much of the kingdom of God we miss because we do that to one another."