Why Kuyper is The Right Choice
Often prospective students and their parents ask our admission representatives a simple but powerful question—Why Kuyper? There is not one answer, but nine.
Ranked No. 6 Among the Top 10 Michigan Colleges
Using data from the National Center for Education Statistics, the Council for Community and Economic Research, the U.S. Department of Education, collegedata and PayScale, WalletHub compared nearly 1,000 higher education institutions in the U.S. across 30 metrics including: student-faculty ratio, cost and financing, graduation rates, and post-attendance median salary. reported that Kuyper College is ranked sixth in the state
Quality Academics
At Kuyper, through the combination of a rigorous academic curriculum and a biblical worldview, the academic programs have been designed to meet the highest educational standards. One example is our social work program, ranked among the 10 best in Michigan according to a study conducted by Zippia, Inc., a leading higher education research company.
Biblical Integration
A major component of a Kuyper education is the integration of the Bible in our academic programs. Our distinctively Christian core curriculum is based on 36 general education/arts and science and 21 Bible and theology credits. And while several programs have a dual Bible and theology major built in, all Kuyper programs provide the option of graduating with a double major.
Top-Notch Faculty
With one faculty member for every 10 students, our studies are shaped by small classes that give students the benefit of nurturing, yet challenging, instruction by professors known for their subject matter expertise. As mentors, they also take a personal interest not only in student academic growth, but also in their spiritual and personal well-being—both inside and outside of the classroom.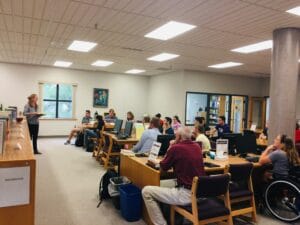 Ranked No. 2 in Student Satisfaction Nationally
At Kuyper our students represent more than 25 denominations from across the country and around the world and thrive as they live in community through authentic relationships. That may explain why a report by College Consensus ranks Kuyper college as second nationally in student satisfaction among all Christian colleges and universities.
Affordability
At Kuyper, we are committed to helping our students and their families make a high-quality Christian education as affordable as possible. Our tuition is significantly lower than comparable Christian colleges—an average of $5,000 less per year. In addition, our generous scholarships and financial aid opportunities offer significant savings.
Students Graduate with a Strong Resume
Kuyper internships allow students to experience out-of-classroom learning as they work in their chosen professions applying the principles, skills and techniques learned in the classroom so they can graduate with invaluable real-world experience—and a quality resume.
Students Graduate Career Ready
KuyperWorks is a new program that guarantees on-campus jobs for resident students and provides them with workplace and career readiness skills for post-graduation employment while also making their education more affordable.
A Financial Safety Net
The Kuyper Loan Repayment Assistance Program (KLRAP) provides a safety net for students by helping graduates repay student loans. The program is available to all incoming freshmen at no cost to students or their families and helps to repay loans after graduation if a graduate's income does not meet a specified threshold.