"Yet We Still Hope" Contains A Chapter Written By Kuyper Alum, Karen Lubbers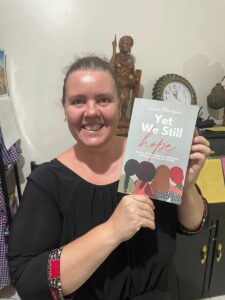 ​​A book that Kuyper graduate Karen Lubbers contributed to was published in November 2022. But she didn't get her hands on a copy until early March 2023.

"A friend carried it to Uganda in her suitcase," she said with a smile.

Karen and her husband, Moses Odel, moved to Gulu, Uganda in 2020. There she started meeting with other missionary women for times of Bible study and fellowship. Many of the women had been attending retreats sponsored by Velvet Ashes, an online community of women serving overseas and named for the Velvet Ash tree which grows and thrives in the desert in both extreme heat and cold. And then came an unexpected opportunity.

"In 2021, a Velvet Ashes marketing email included a request to women serving around the world to see if anyone would send in stories of courage," Lubbers recalled recently. "They wanted to put together a collection of stories to encourage others who are serving. I felt prompted to write."

Her chapter appears in "Yet We Still Hope: Stories of Courage from Women Serving Around the World" and is entitled "Irish Courage." It tells the story of a visit she made to Ireland and a series of unexpected medical misfortunes that befell her upon her arrival in that country. It also tells the immense story of God's grace and goodness via the people He placed in her path as she navigated the uncertainties of her health and her future. And it recounts the day her husband proposed to her and the life she and Moses are making together.

"I was excited about the idea of having my story encourage others," she said. "I've been a part of a writer's group in Ontario since 2007, and it's kind of fun to see that I've finally had something published besides a devotional or an e-newsletter of our missions updates."

Lubbers grew up in Whitechurch, Ont., a small farming community 15 miles east of Lake Huron in a part of Ontario dotted with small farm towns. It was a place she never expected to leave.

"I was going to teach at the local Christian school and enjoy the rural life," she said.

As a high school senior she knew she wanted to go to college but had no idea where.

"Then at Christmas time my Aunt and Uncle mentioned that in the 70s they went to some place called RBI, and I had a sudden heart flutter," she said.

A couple of weeks later, someone at her church asked her about her college plans, and she told them she had heard about a place in Michigan called Reformed Bible College, but she didn't know much about it.

"A few days later, a deacon knocked on our front door and brought some pamphlets for RBC," she said. "He told me that they were never displayed at the back of the church because they didn't know that anyone would want to go to college in the U.S. But he heard that I was interested, and so he thought I might want to check them out."

Soon after, Lubbers said, she and her mom drove five hours or so to Grand Rapids to visit.

"I fell in love with the small school immediately," she said. "They knew my name when I came through the doors. It felt like my small village to me."

Lubbers graduated in 1999 having studied Youth, Evangelism, and Education, with a minor in Sociology.

She also continued to scratch the wanderlust itch that her Kuyper experience had awakened in her. She moved to the Netherlands for a year to, she said, learn about servanthood and my heritage. From 2001-2004, she served in the Philippines with Resonate Global Missions and from 2005-2009 she worked as a support worker Christian Horizons. In 2009 she reached what she calls "my beloved East Africa," and she has been in Uganda as a full time missionary since 2011.

It was at Kuyper, she said, that the call to Africa first began to sound in her soul.

"I met Kenyans and Ugandans, who, after sharing cornmeal, greens and chai tea, and developing great friendships, they said, 'You belong in our country," she said. "And courses like Methods of Teaching, Psychology, Choir, Biblical Interpretation and Children's Lit all have played a role in my time as a missionary."

She also called on Kuyper connections as she planned her missionary journey.

"As I was praying about how to get to Uganda, I reached out to Josh and Mandy Shaarda and Tim and Angie Sliedrecht, who were also serving in Soroti, Uganda," she said. "We all met Kuyper and stayed in the dorms together for 2-3 years. I ended up joining their team when I first moved to Uganda, and the rest is history."

Lubbers also met and worked with current Kuyper President Patti Harris while in the Philippines, sharing meals and attending missions meetings and conferences together. 
As she said with a smile: "It's a small world.​" But a small world that Lubbers has experienced big parts of thanks to her Kuyper experience.​​