Bill McKendry Speaks in Kuyper Business Class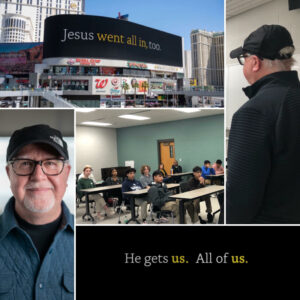 Marc Andreas, the program director and a professor in Kuyper's Business Leadership department likes the wisdom guest speakers bring to his classes.
"They are an important part of the experiential education we provide in Kuyper's Business Leadership program," he said. "They take the topics we discuss in class and provide current context for what is happening in the marketplace of for-profit and nonprofit organizations."
In recent speaker Bill McKendry, students in Andreas' Nonprofit Management class got a fascinating current context. Andreas has known McKendry for more than a decade, going back to when Andreas was a vice president of marketing at Bethany Christian Services, and McKendry helped the agency with some branding work.
McKendry is now the founder and chief creative officer at BrandHaven (formerly Haven), the Michigan-based agency leading the multi-million dollar He Gets Us campaign that included two ads during this year's Super Bowl.
Kuyper students in Andreas' class, plus students from his Potter's House dual-enrolled Marketing & Sales class, got an insider's look at not only the He Gets Us campaign, but also Haven's comprehensive work with nonprofits.
Andreas went on to say that in addition to insights about strategy formation and success metrics for He Gets Us, McKendry also shared highlights from his three decades of marketing and advertising work, and what it takes for nonprofits to compete for attention with the largest corporate brands in the world. McKendry also allowed for Q&A time at the end and talked to students afterwards.
"Bill was a great role model of using business as a force for good and building God's kingdom on earth which are themes and topics we discuss frequently in Kuyper Business Leadership classes," Andreas said.