Dr. White Earns Grant for Project on Black Women's Storytelling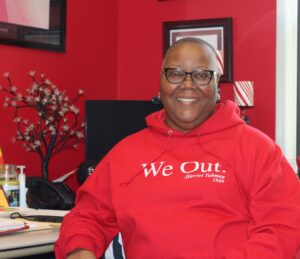 For Black History Month, Dr. Richelle White, Kuyper's Professor of Youth Ministry and Director of Field Practicum and Internships, is wearing a different T-shirt or sweatshirt daily that spotlights the wisdom of heroes who represent Black history and culture.
The highly visual experience, she said, is a form of storytelling.
"It gets people talking, and they ask me questions," she said. "It makes a connection and maybe people get a chance to learn something."
Storytelling, connection and learning are also at the heart of a new research project for which she just received a grant from the Wabash Center for Teaching and Learning in Theology and Religion.
Her project is called "Black Women's Storytelling as Healing Pedagogy," and White, who earned her Ph.D. at Union Presbyterian Seminary, believes that it will enhance her professional knowledge. But she also expects the project to directly benefit Kuyper students.
"The research that I'll be doing – that I have already started doing – will become part of my pedagogy, what we do in the classroom," she said. "For example, Youth Ministry in an Urban Setting, Pastoral Care and Human Diversity would be three classes where what I learn through this project could become part of the conversations around whatever that day's topic might be. My hope would be that these women's stories would bring truth to the classroom setting."
White has completed two conversations and said faith and community are already becoming important themes in what she is hearing.
"All of the women I will interview are either in ministry or academia," she said. "And it's been liberating and exhilarating to see how God moves in people's lives and communities."
That exhilaration, she added, is part of why she applied for the Wabash grant in the first place.
"As I hear these stories, it's exciting for me to envision bringing the voices and pedagogical practices of other Black women academics and ministers into the classroom," she said.
White said that at the heart of the project is storytelling for identity formation and prophetic witness, specifically using storytelling to build just, loving and diverse learning communities.
As part of her grant, she said, she will complete a 13-session master class on the Power of Storytelling and will also participate in a Storytelling Excursion to the Smithsonian National Museum of African American History and Culture where she will meet, talk with and tour with Dr. Eric Williams, curator of religion, to explore some of the stories celebrating women's history.
She plans to complete her project by June 2023.