From Homesick to At Home in the Mission Field
When Karen Lubbers Odel was a little girl, she couldn't imagine herself leaving home.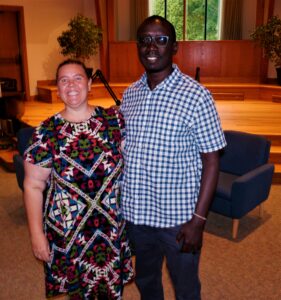 "I couldn't go anywhere without my parents because I struggled with homesickness," the Ontario native and 1999 Kuyper graduate told the Kuyper community at the year's first session of Ora Et Labora, a weekly time where speakers come to campus to talk about their work and how their faith impacts that work. 
Now, however, she has a hard time staying home, and she credits Kuyper in large part for that transformation.
"I came here in 1995, and my world was turned upside down," she said with a laugh. "This rural girl got to meet people from all over the world and see that ministry is not limited to pastoring and teaching. I learned that our faith could play out in whatever job we have."
Kuyper was also where she developed a yearning to serve God in East Africa.
"I met people from Kenya and Uganda here and just fell in love with their food, their conversations, their language. I said, 'Lord, I'm going to Africa,'" she recalled. 
But first, God had a detour for her.
It included a year in the Netherlands as a nanny, then three years in the Philippines doing mission work and another five years working at a group home in Toronto. Though she followed God's guidance gladly, she still longed to live out her dream.
"I said, 'Lord, if you're not going to send me to Africa for work, I'm at least going for a vacation,'" she said, to ripples of laughter from the audience. "I took what was supposed to be a one-year leave of absence to go to Kenya and Uganda, and that's the end of that story. I've been there ever since."
After 16 years in the mission field equipping pastors and youth, Lubbers Odel has learned many lessons. The most important of these, she says, is the realization that she does not operate only under her own strength. 
"It really prepared me for the mission field, as well as for the rest of life. God has given me a lot of gifts, but I can't do anything without Him," she said.
Read more about Karen's Kuyper journey in this story from March 2023