Grace Upon Grace: Unveiling the Transformative Power of Redemption and Kintsugi
At the end of this first year as a full-time professor at Kuyper College, Tim Howerzyl had a chance to present a paper at this year's Kuyper Conference at Redeemer University in Ancaster, Ontario.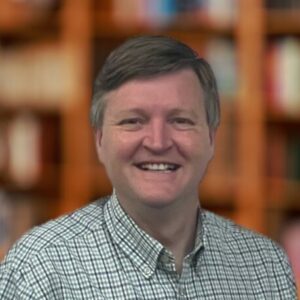 The annual conference is part of a multi-year series of events underwritten by Calvin University and Calvin Theological Seminary to promote a broad exploration, engagement, and development of the legacy of the Dutch Reformed theologian and statesman Abraham Kuyper. This year's conference had a specific focus on the relevance of Kuyper's thinking, and neo-Calvinism generally, for repair, repentance, and reconciliation amidst past wrongs and injustice.
Howerzyl said being immersed in the three-day event was a fitting way for him to conclude a 2022-23 academic year at Kuyper College that was centered on Romans 12 with its theme of life and work together in a Christian community. The theme of the 2023 Kuyper conference was "Kuyper and Kintsugi: Public Theology for Repair, Reconciliation, and Restoration."
Kintsugi is the ancient Japanese art of repairing broken pottery, particularly tea service, with lacquer and precious metals to restore the vessel or plate to a usable condition. In kintsugi, the restored pieces were held as more precious and valuable than those which had not been broken.
The conference theme arose from the interests of the keynote speaker, Makoto Fujimura, who is a well-known international artist, and who, with his wife, Haejin Shim Fujimura, has been using the art of kintsugi as a means to bring peace and healing into the lives of those who have experienced trauma or conflict. Howerzyl's paper was titled "We Have All Received Grace upon Grace: Redemption as Restoration, Replacement, or…Kintsugi?"
In it, he explored the kintsugi of God's creative and redemptive work in the world, a topic that arose from his thinking relating to Kuyper College's core theology course called "Principles & Practices of Reformed Worldview," which he teaches to junior and senior Kuyper students each semester.
Howerzyl said it gave him a chance to dig into some fundamental questions of theology, especially related to Abraham Kuyper's work on the various spheres of human existence. "A Reformed worldview perspective is committed to creation as foundational for God's intentions for human life in all its aspects," Howerzyl said. "But how does the redemptive work of Christ affect the creational norms? Or, to put it another way, how does grace relate to nature?"
A restoration model, he said, tends to emphasize the mending or repairing of human brokenness, but without much sense of grace bringing something fundamentally new into the world's way of being. But a replacement model tends to see grace as being something so different from the fallen creation that it doesn't have much to do with the old order of things. "I proposed that the New Testament sees God's redemptive work in Christ as bringing some dramatically new elements to the created order, most notably the incarnation of Christ, the church as the branches of the true vine and Christ's body in the world, the indwelling of the Holy Spirit in believers, and the resurrection from the dead in Christ," he said.
These elements substantially alter the creational experience of believers and their mission in the world, but in a way that extends and fulfills the creation order rather than replacing it. In this way, Howerzyl said, it functions sort of like Kintsugi in relation to pottery. The title of the paper comes from John 1:16: "For from his fullness we have all received grace upon grace."
"I thought about this verse in relation to the way God has given the grace of a good creation but has now extended that grace in even more dramatic and beautiful ways in Jesus' fullness coming to us as believers," he said. "I think that's a remarkable thing to consider."
Howerzyl came to Kuyper after almost 20 years in ministry. He earned a bachelor's degree at Calvin in 1995, an MDiv from Calvin Theological Seminary in 199, and a PhD from Fuller Theological Seminary in 2015. In his teaching and mentoring, he has a special interest in helping students see their place in the kingdom of God and how their lives can be part of the mission of Christ for the world. He teaches theology and ministry courses as well as directing the Master of Ministry program at Kuyper.
As a theologian, he has a special interest in conceptualizing and contemplating the beauty of the saving work of Jesus on the cross, as well as how that salvation is actualized in believers' lives.