Kuyper Unveils New Minors in Sports Management and Community Development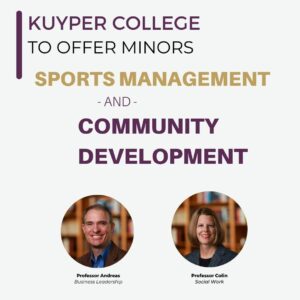 A pair of new minors at Kuyper will give the College's students excellent academic options to combine with their major and will enhance their careers after graduation.
The two new offerings are a minor in Sports Management and a minor in Community Development. 
Both will be available to Kuyper students already this fall. 
The Sports Management minor will be led by Business Leadership professor Marc Andreas who said the re-introduction of varsity athletics to the College also is leading to a surge of incoming student-athletes interested in the field.
"We are creating a minor that fits the culture of Kuyper College," Andreas said. "Similar to Kuyper's Interdisciplinary program, students will have the ability to customize this minor by choosing from approved online courses taught by Christian Colleges around the U.S. And students looking to go into all majors at Kuyper, not just Business Leadership, are eligible for this program."
The Community Development minor also is a natural fit with Kuyper's history and mission and recognizes that many churches are working to become more engaged with their local communities. It will overlap with content from the Kuyper Social Work major while allowing students interested in community development to gain a deeper knowledge of the field.
Social Work program director Jennifer Colin came to the College two years ago after many years in K-12 education, including stints as a school social worker, school counselor and principal. 
She said Kuyper students have expressed interest in learning more about how they can care for and grow their communities in a more intentional way. 
"Offering the community development minor can effectively equip students with knowledge and tools that will help them make a difference wherever God leads," she added. "A community development minor will challenge and motivate students to engage with others where they live and work. Community development empowers people to utilize their own gifts and talents in creating an environment where everyone can flourish."
Interdisciplinary Studies Assistant Professor Andrew Zwart, who was instrumental in crafting the new minor, agreed.
"At Kuyper, we have always emphasized the importance of service, and community development is a way for students to learn to listen carefully to the needs of their community and offer their service as small steps toward God's plan of restoration," he said.
Both Zwart and Colin believe the new minor will pair well with several different majors at Kuyper, including business leadership, interdisciplinary studies, ministry leadership, and social work.
The same will be true for the new Sports Management minor, Andreas said. He also is hopeful that some elements of the minor could be candidates for future micro-credentials for working professionals. And, he added, the plan for the minor is that courses that will be online in the first year will be transitioned to in-person versions in subsequent years, including the Introduction to Sport Management course. 
"The long-term goal of the program is to have most of the courses taught in person by Kuyper faculty or approved adjunct faculty members with significant experience in these specific fields," he said.
Andreas has a long history in sports and sports management, including as a former owner of NetValue Sports, a basketball advanced analytics company, a former owner of the Grand Rapids Drive, and a decade of high school basketball coaching experience.